Japanese support for airport - Hoi An monorail
Published: September 15, 2016
During Wednesday's meeting with former Director-General of UNESCO Koïchiro Matsuura, Da Nang People's Committee Chairman Huynh Duc Tho remarked that the priority now is to appeal for more domestic and FDI inflows into transport projects, in addition to investment into tourism, and hi-tech and IT parks. The intention is to prepare for issues which will arise during the city's continuing development, especially as its population is expected to reach over 2 million by 2030.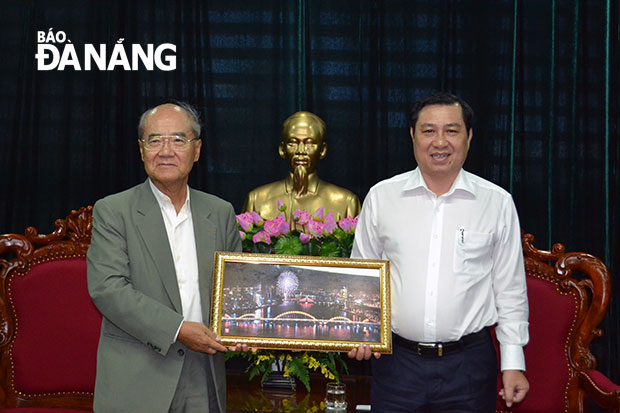 Mr Matsuura (left) and Chairman Tho
Chairman Tho thanked the Japanese government for helping the city to implement such local projects as the upgrade of the Tien Sa Port, the construction of the Hai Van road tunnel, and projects for solving local water pollution problems.
Over recent years, many Japanese businesses operating in the city have gained initial success in their business activities. However, the number of Japanese investors in the city is still modest. Chairman Tho, therefore, hoped that Mr Matsuura would encourage more investors from his country to seek opportunities in the city in the years ahead. This will help to promote the city's socio-economic development and ensure more comprehensive bilateral cooperation in economics, culture and education.
In reply, Mr Matsuura affirmed that, given the fruitful bilateral relationship with Viet Nam, there is a growing tendency for Japanese businesses to invest into Da Nang.
The guest also said that Japanese partners have already met with representatives from the Vietnamese Ministry of Transport to consider the construction of a monorail connecting Da Nang International Airport with Hoi An. This project would help to ease traffic congestion in the populous urban areas as well as develop local tourism.
Chairman Tho highly praised the suggestion made by his guest, and he hoped that the Japanese partners would conduct research into the deployment of this project as soon as possible.
.