PM calls for more financial, technical support from WB
Published: June 27, 2018
Prime Minister Nguyen Xuan Phuc has urged the World Bank (WB) to continue its financial and technical support for Viet Nam during his meeting with the WB's Vice President for East Asia and Pacific Victoria Kwakwa in Da Nang on 27 June.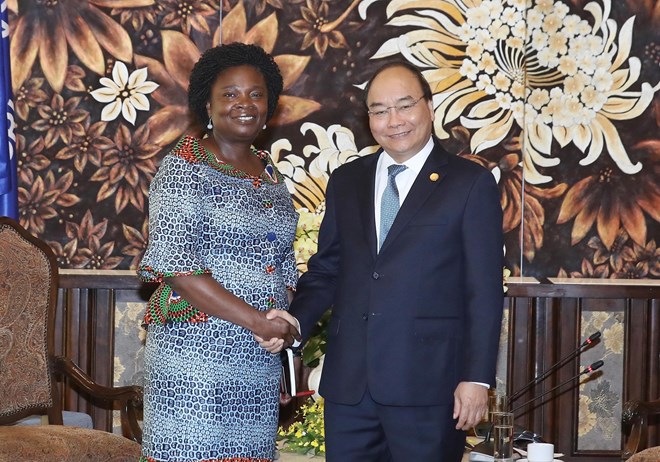 Prime Minister Nguyen Xuan Phuc (right) and WB's Vice President for East Asia and Pacific Victoria Kwakwa (Source: VNA)
The Government leader asked for the bank's transitional support to help Viet Nam with the International Development Association (IDA) graduation, thus maintaining the country's achievements in socio-economic development and poverty reduction.
Prime Phuc said the WB's adjustment of its forecast of Viet Nam's economic growth from 6.5 percent at the end of 2017 to 6.8 percent in 2018 would help improve investors' confidence in Viet Nam.
He informed Kwakwa about Viet Nam's smooth disbursement of the WB's loans, especially during 2012-2016, saying the Vietnamese Government has urged localities and agencies to speed up the implementation of the projects.
Talking about the World Economic Forum on ASEAN to be hosted by Viet Nam in September 2018, the PM expressed his hope that the WB will send representatives to this important event.
Kwakwa, who is in Viet Nam to attend the sixth Global Environment Facility (GEF 6) Assembly, said Viet Nam's hosting of the GEF 6 and other big international events recently has reflected its increasing role and prestige in the international area.
She congratulated Viet Nam on its high economic growth, with the figure recorded in the first quarter of 2018 being the highest year-on-year increase over the past decade.
To increase the economy's resistance against external shocks, Viet Nam should push forward with reforms, including financial reforms, she suggested.
Recalling PM Phuc's request for the WB's support for Viet Nam's renewable energy projects, Kwakwa said the bank hopes to cooperate with the country in this promising sphere.
(Source: VNA/ DA NANG Today)
.