Encouraging local residents to protect maritime environment
April 18, 2019, 17:30 [GMT+7]
Established several years ago, an environmental sanitation team under the management of the Marine and River Environment Factory of the Da Nang Urban Environment Company has become actively involved in cleaning up local beaches. Thanks to this, the environmental hygiene along the city's coastal line has been ensured.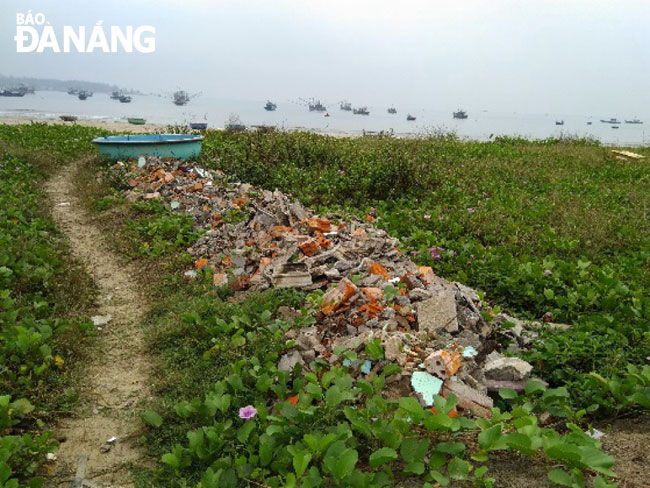 Garbage is seen on the Tho Quang Beach
However, the discharge of solid waste and waste water has continued occurring across coastal areas.
In particular, rubbish, including empty beer cans, damaged light bulbs, plastic bottles, plastic and foam bags, ropes, and debris has been sometimes found in the Tho Quang Beach in Son Tra District.
Also, garbage has been seen along beaches stretching from the East Sea Park to the Son Tra Peninsula, and bad smells have sometimes come from drains. This has adversely affected the beach tourism environment.
Mr Ngo Tan Ha from Da Nang who usually goes swimming in the Man Thai Beach said he saw sanitation workers clearing garbage at the beach at around between 4 and 5am every day. However, visitors then litter on the beach.
Mr Pham Minh Hung, Chairman of the Phuoc My Ward People's Committee in Son Tra District, remarked his ward often encouraged local residents to ensure the beach tourism environment.
In addition, the ward's patrol team No 8394 has joined forces with the Management Board of the Son Tra Peninsula and the Da Nang Tourism Beaches to ask visitors to put their rubbish out correctly.
Besides, strict fines have been imposed on violations relating to littering on beaches with the purpose of ensuring a clean and safe environment.
According to Mr Le Tu Hoa, Chairman of the Tho Quang Ward Fatherland Front Committee, various exciting activities to raise the public's awareness about environmental protection have been organised across his ward.
Included are the 'All People Unite to Upgrade New Rural Areas and Build a Civilised Urban Lifestyle', 'Joining efforts in protecting the country's sea and islands', and 'Green, Clean and Beautiful Sundays' movements.
.