City ready to build a smarter city
October 23, 2019, 10:41 [GMT+7]
Within the framework of the Japan ICT Day 2019 and the Smart City Summit 2019, both held in Da Nang, municipal People's Committee Vice Chairman Le Trung Chinh played host to a group of visitors from the Asian-Oceanian Computing Industry Organization (ASOCIO) on Tuesday.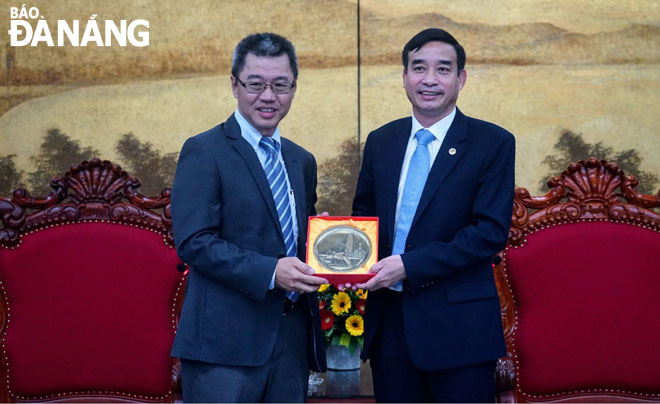 Vice Chairman Chinh (right) presenting a momento to Chairman of ASOCIO David Wong
During his reception for his guests, Vice Chairman Chinh said Da Nang has been lacking experience along with financial and human resources during the implementation of a project on building a smarter city. He, therefore, asked for help from ASOCIO and other cities worldwide to give better spiritual support to Da Nang, as well as share their valuable experience and solutions in building smarter city with his city, in the coming time.
The host pledged the municipal authorities always created very favourable conditions for foreign businesses to invest and operate effectively in the city.
Mr Chinh added over recent years, Da Nang has effectively implemented e-Government system, thereby contributing to accelerate the administrative reform. As a result, Da Nang has secured its top position in the Viet Nam ICT Index, the ranking on the readiness for information and communications technology (ICT) development and applications, for many years.
Since 2014, the city has piloted smart applications in the aspects of transportation, environment, food safety, education and healthcare, bringing positive results in urban management activities.
Most specially, Da Nang has been honoured with ASOCIOSmart City Award 2019. The award aims to recognise and honour cities of 24 ASOCIO member economies for their great efforts and remarkable achievements during the building of smarter cities.
Vice Chairman Chinh also said that Da Nang needs a helping hand from ASOCIO to bring the city closer to other smart cities and technological companies in the region and around the world in the years ahead.
In reply, Mr David Wong, Chairman of ASOCIO, said that most recently Da Nang has been emerging as an inviting destination for visitors in the Asia-Pacific region. He affirmed the Vietnamese coastal city has great potential for the development of information technology industry.
Also, the guest highlighted the vital role of government leaders during the implementation of a project on building a smarter city. He vowed that ASOCIO would give active support to Da Nang in order to help the city carry out the project successfully.
.