Tightening bilateral cooperation with Fukuoka Prefecture
October 24, 2019, 14:23 [GMT+7]
On Wednesday morning, Da Nang People's Council Vice Chairman Le Minh Trung hosted a group of visitors from the Fukuoka Prefectural Assembly in Japan, led by Mr Tosho Matsuo, Chairman of the Fukuoka-Viet Nam Friendship Parliamentary Alliance.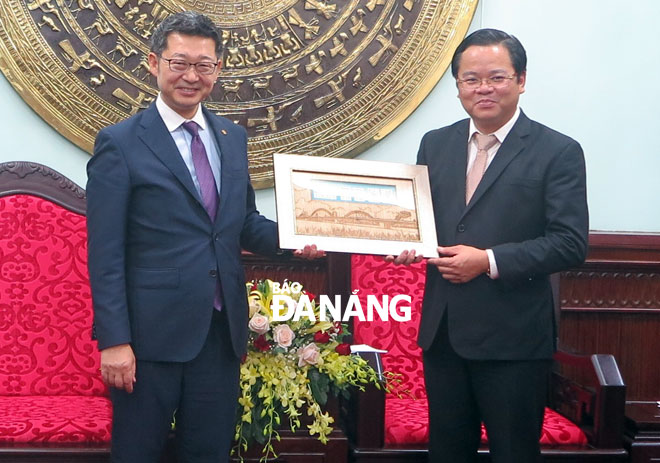 Vice Chairman Le Minh Trung (right) presenting a gift to Mr Tosho Matsuo
Mr Trung remarked his city has been implementing the Politburo's Resolution No 43-NQ/TW regarding the city's progress by 2030 with a vision toward 2045. During this period, Da Nang considered Japan the most important partner for promoting the city's development according to the resolution.
The host said over recent years, Da Nang has welcomed a large number of foreigners, including those from Japan, to invest into the locality. However, there are no businesses from Fukuoka Prefecture.
Therefore, Vice Chairman Trung asked for help from the Japanese guests to appeal for investors from Fukuoka Prefecture to invest into the city, as well as to promote the opening of Da Nang- Fukuoka nonstop flights, in the time to come.
In reply, Mr Tosho Matsuo agreed with the host's suggestions, saying that the Fukuoka Prefectural Assembly has already set up the Fukuoka-Viet Nam Friendship Parliamentary Alliance with the aim of boosting the bilateral cooperation programmes with Vietnamese localities.
To date, Fukuoka Prefecture has signed cooperative agreements with the Vietnamese big cities of Ha Noi and Ho Chi Minh City. Meanwhile, a cooperative agreement between Da Nang and Fukuoka Prefecture will soon to be signed, which will facilitate the two sides to deploy their cooperative programmes.
In the afternoon of the same day, the Japanese delegation met with municipal People's Committee Vice Chairman Le Trung Chinh.
During his reception for his Japanese guests, Vice Chairman Chinh highly appreciated the investment and operation efficiency of Japanese companies in the city.
He also asked the Japanese visitors to encourage even more businesspeople from their locality to invest into Da Nang in the aspects of hi-tech and information technology. He said he would like the Fukuoka Prefecture government to grant scholarships to the Da Nang students.
.