Promoting bilateral cooperation in training elderly caregivers with Kisarazu
November 26, 2019, 12:46 [GMT+7]
During his Monday reception for a delegation from Japan's Kisarazu City, led by its Deputy Mayoress Sachiko Tanaka, Da Nang People's Committee Vice Chairman Tran Van Mien spoke highly of many effective exchanges and cooperation programmes between the 2 cities since their signing of a memorandum of understanding (MoU) on cooperation in July.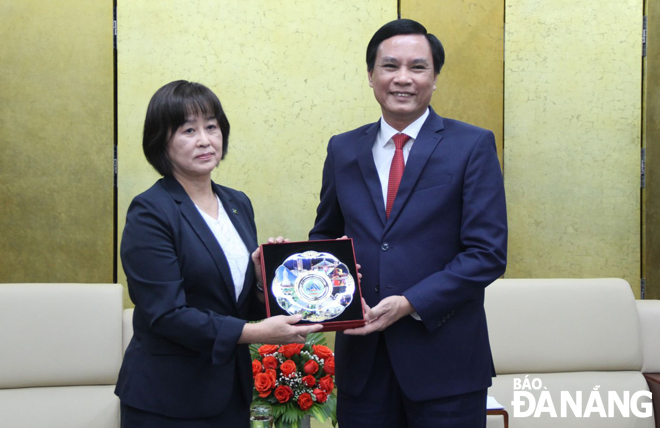 Kisarazu City Deputy Mayoress Sachiko Tanaka (left) being warmly received by Da Nang People's Committee Vice Chairman Tran Van Mien
Vice Chairman Mien asked for help from the Kisarazu City government to offer training programmes to enhance professional skills for nursing students and build support mechanisms for Vietnamese trainees during their stay in the Japanese city, and promote bilateral human resource exchanges.
According to Ms Sachiko Tanaka, Kisarazu City, and Japan as a whole, is now facing challenges of an aging population. Therefore, the search for caregivers for the elederly in this Japanese locality and this country at large, is essential.
During their Da Nang trip, the Japanese guests learned about nursing training programmes in the Phuong Dong Junior College, Duy Tan University and the Faculty of Medicine and Pharmacy at the University of Da Nang, and introduced their students to employment opportunities to work in Japan-based elderly care centers.
Ms Sachiko Tanaka hoped that the 2 cities would, as soon as possible, set up cooperation programmes on human resource exchanges in nursing and health care, and strengthen their bilateral relationships in the coming time as well.
By LAM PHUONG-Translated by ANH THU
.