Promoting establishment of representative office of AmCham in the city
November 03, 2019, 14:44 [GMT+7]
During his Friday reception for Ms Mary Tarnowka, the Executive Director at AmCham (American Chamber of Commerce) Viet Nam in Ho Chi Minh City, former U.S. Consul General in Ho Chi Minh City, Da Nang People's Committee Vice Chairman Ho Ky Minh said, as of 5 March, 2019, Da Nang had attracted 56 US-invested projects worth 589 million US$ in total.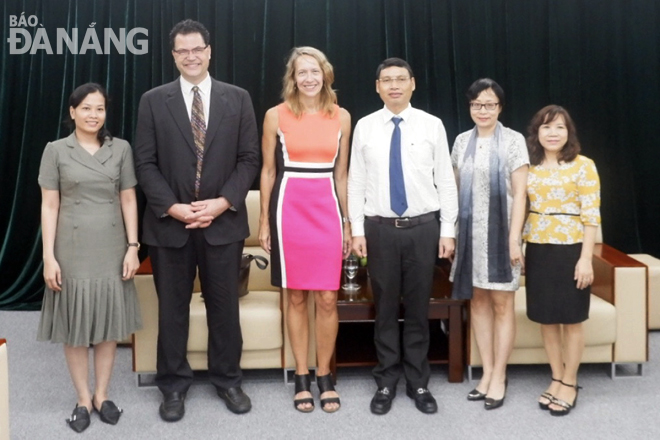 Da Nang People's Committee Vice Chairman Ho Ky Minh (3rd right) warmly receiving Ms Mary Tarnowka (3rd left), the Executive Director at AmCham Viet Nam in Ho Chi Minh
Da Nang has always regarded the USA as one of its key economic partners. The city authorities have paid heed to appealing for even more US investors boasting financial and technological capabilities to seek investment opportunities in the city.
There are such outstanding aspects which match US businesses' strengths as information technology, electronic equipment manufacturing, aerospace, automation, artificial intelligence and support industries, health care, education, and real estates.
Given the growing number of US businesses investing in Da Nang in recent times, and the presence of many representative offices of US companies in Da Nang, it is necessary to establish a representative office of Amcham in the city. This office is highly expected to create a profound impact on the development and trade activities of US partners in the city.
The municipal administration has urged the municipal Department of Foreign Affairs and the city's Promotion and Investment Support Board to jointly give their recomendations on how to establish and operate the Amcham representative office in an appropriate and effective manner.
According to Vice Chairman Minh, Viet Nam will assume the role of the ASEAN Chair in 2020 and a non-permanent member of the United Nations Security Council for the 2020-2021 tenure. Next year will also mark the 25th anniversary of Viet Nam-US diplomatic relationships. Viet Nam, therefore, hopes to see the bilateral ties grow considerably, hereby accelerating bilateral cooperation in trade, investment, security, and defence.
Ms Mary Tarnowka said she would like the city government to continue facilitating US businesses operating here to expand their business activities, thereby promoting the strategic partnership between the 2 countries.
During her meeting with Vice Chairman Minh, the US guest also accepted an invitation to attend the Da Nang Spring Dialogue 2020 and a forum for foreign cities that Da Nang has set up friendship and cooperation, both of which are scheduled to take place next March.
.