The city cooperates with UNDP to develop 'Da Nang City Lab'
November 05, 2019, 11:03 [GMT+7]
Representatives from the Da Nang People's Committee (PC) and the United Nations Development Programme (UNDP) on Monday entered into a memorandum of understanding on strategic cooperation to develop the 'Da Nang City Lab'.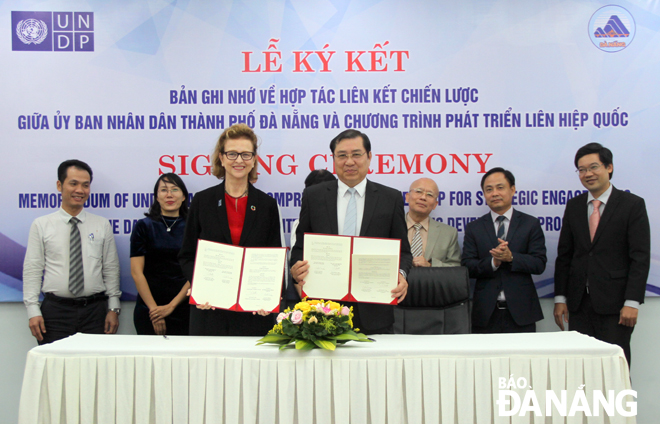 A scene from the signing of the memorandum of understanding on strategic cooperation to develop the 'Da Nang City Lab'
At the signing ceremony, Chairman of the municipal PC Huynh Duc Tho thanked UNDP for its great support given to Da Nang in recent years.
He highlighted the great significance of the 'Da Nang City Lab' cooperative programme in laying a solid foundation for deeper bilateral cooperation with UNDP in the coming time.
The municipal government leader also affirmed that the development of Da Nang into a City Lab in the future is an opportunity for the city to connect with City Labs around the world, hereby promoting the testing and the dissemination of innovation solutions so as to achieve the sustainable development goals that the city is eyeing.
Based on the cooperation agreement with UNDP, the city will focus on dealing pressing environmental issues, creating electronic solutions, and innovations to enhance public administrative services.
Da Nang is focusing on implementing Politburo's Resolution No 43-NQ/TW regarding the city's progress by 2030 with a vision toward 204, with a target at developing Da Nang into a green, modern-smart, global city with unique identity.
The signing of cooperation with UNDP, therefore, will provide a basis for promoting cooperation activities in such priority areas as developing tourism and high quality services associated with resort real estates; seaports and airports associated with logistics services; hi-tech industry associated with building innovative urban centres, startups; information technology, electronics and telecommunications attached to the digital economy; hi-tech agricultural products and fishery.
Chairman Tho took the opportunity to invite UNDP Resident Representative in Viet Nam Caitlin Wiesen to attend the Da Nang Spring Dialogue 2020 and a forum for foreign cities that Da Nang has set up friendship and cooperation, both of which are scheduled to take place next March.
In reply, Ms Caitlin Wiesen hopes that, once participating in the City Labs model, Da Nang would learn a lot of experience from other countries worldwide to build itself into an environmentally friendly and smart city as coveted.
She also asked for help from the city authorities to facilitate UNDP-proposed support activities which will take place later this month.
It is known that, within the framework of the cooperation, the two sides agreed on 4 contents, namely smart city building; circulating economy, environment, waste; tourism and innovation.
During the first stage of cooperation, the 2 sides will focus on addressing environmental issues, applying innovative electronic solutions into public administrative services, using chatbots featuring artificial intelligence technology (AI) in the provision of public services. In subsequent stages, cooperation will expand into other aspect of development and social initiatives that are necessary and feasible.
.