Active involvement of YU members in fight against COVID-19
October 13, 2021, 09:08 [GMT+7]
Over the past times, around 300 Youth Union members across Hoa Vang District's Hoa Phuoc Ward have been active in supporting the locality in the fight against the pandemic.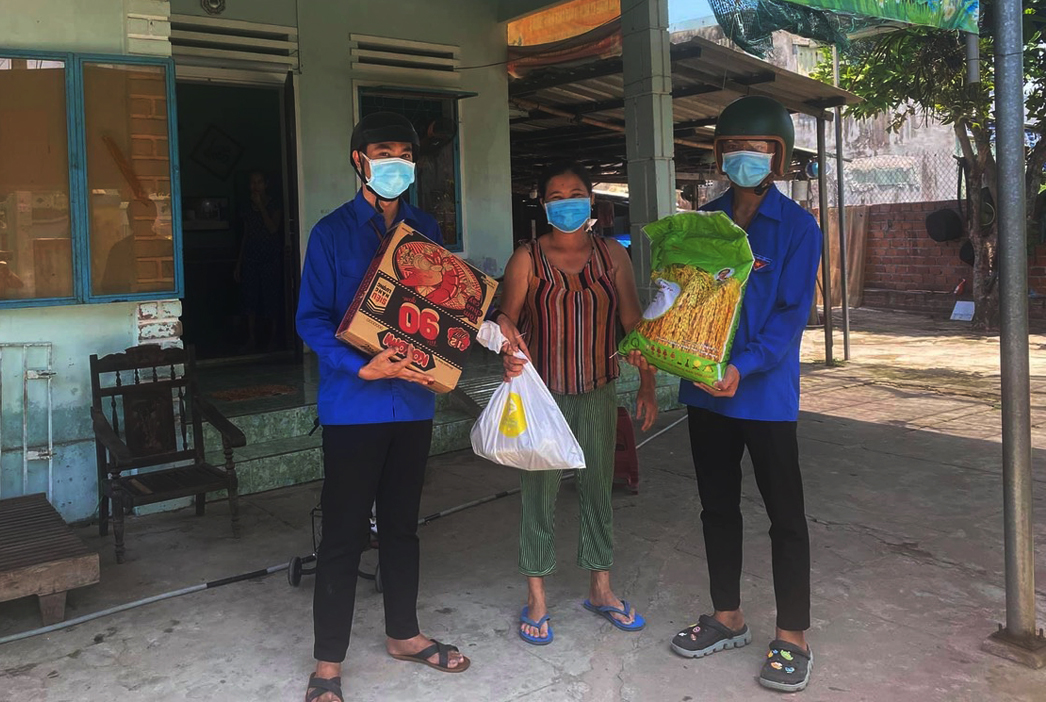 Two Youth Union members delivering relief goods to poor families
Since the fourth wave of COVID-19 outbreaks hit Da Nang in May, the Hoa Phuoc Ward chapter of the Da Nang Youth Union has established ten COVID-19 rapid response teams with 15 members each. These teams have been actively involved in supporting the ward's villages in the fight against the pandemic from staffing at COVID-19 checkpoints, and receiving and distributing relief food, to assisting frontline medical workers in conducting screening and vaccination smoothly and quickly.
At the Cultural House in Hoa Phuoc Commune's Nhon Tho 2 Village, nearly 10 YU members were busy dividing agricultural products that have just been provided by generous donors into small bags to deliver them to villagers.
Mr. Le Viet Thanh said that all YU members in the village volunteered to take part in pandemic prevention and control activities in their localities.
"These enthusiastic volunteers have staffed at the villages' blockade areas, and delivered relief goods to residents in blockade areas. Additionally, they have gone to the market or supermarket to buy food according to each order made by every household and then "ship" to them" added Mr Thanh.
Secretary of the Mieu Bong Village's Youth Union organisation Tran Thi Thu Ha remarked "We always support villagers whenever they are in need. Also, we regularly remind everyone to stay compliant with the Health Ministry-mandated 5K recommendations".
Previously, 60 households in Com Mong Village were put in blockade. At that time, members of the village's quick response team actively delivered relief goods to each families and went to the market or supermarket to buy food for those in need in a considerate and thoughtful manner.
According to Secretary of the Hoa Phuoc Commune chapter of the municipal Youth Union Tran Van Tho, nearly 300 YU members in the locality have always showed their determination to join forces with the city's authorities in pandemic prevention and control work.
Most notably, since 2018, the Hoa Phuoc Commune chapter of the municipal Youth Union has launched a campaign on collecting recyclable waste to raise fund for poor families and pupils.
An amount of money is collected from the sales of such recycled items as plastic bottles, paper, newspapers, beer cans, and scrap iron to scrap every two weeks.
Ms Ho Thi Lang, a disabled single woman in Con Mong Village, said many times she has received both in-kind and cash support from the local YU organisation. She said she was very touch by such gifts from the YU organisation, encouraging her to try harder to overcome difficulties and stabilize her life.
Chairman of the Hoa Phuoc Commune chapter of the Da Nang Fatherland Front Committee Nguyen But highlighted the significance of the campaign in significantly contributing to cleaning up the environment and supporting needy people.
Reporting by LE VAN THOM - Translating by M.D
.