Da Nang fisherman determined to hold on to the sea
January 12, 2022, 18:27 [GMT+7]
Over the past years, captain Nguyen Phuong Binh, 46, dwelling in Tho Quang Ward, Son Tra District has regularly made fishing trips to the Hoang Sa fishing ground as a highly practical way to help himself earn a living and join the protection of Viet Nam's sacred sovereignty over its sea and islands. The man has set up the Thang Loi Team with 13 offshore fishing boats whose crew members wholeheartedly support one another during at-sea operations.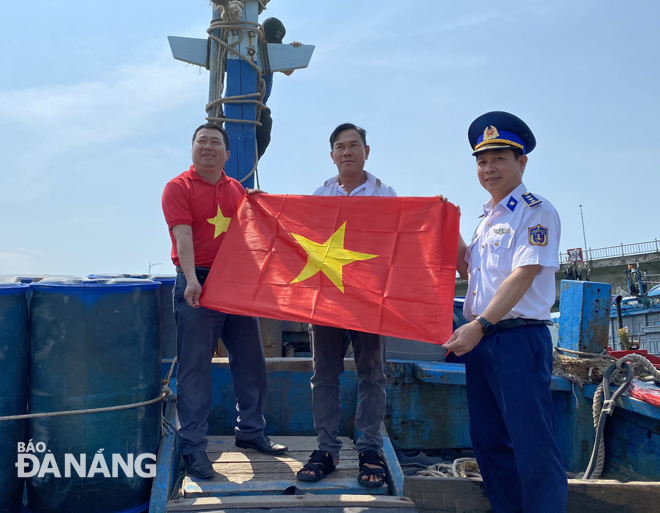 Mr. Nguyen Phuong Binh (center) receives a national flag donated by the Coast Guard Region 2 for his fishing ship in 2020. Photo: LE VAN THOM
Growing up in a family of many generations of fishermen, at the age of 18, Mr. Binh worked as a captain to control fishing boats on the national fishing grounds near and far. The man took the initiative to upgraded boats of small capacity into new ones with a large capacity, and all of them specialised in offshore fishing trips.
At the same time, the strong-willed man has continuously enhanced his professional skills and he has graduated from the Captain and Chief Engineer training programme organised by the Vietnamese Ministry of Fisheries, now known as the Ministry of Agriculture and Rural Development.
In 2018, Mr. Binh invested in building a large ship with a capacity of 825CV with a crew of five which mainly operated in the Hoang Sa waters. He also synchronously procured modern equipment for fishing such as locators, fishfinders and identification devices. "Every year, my ship heads out to sea up to 12 occasions on average. Crew members are paid VND10 million each per trip", said Mr. Binh.
According to the instructions of the local authorities, in October 2018, Mr. Binh established the Thang Loi team with 13 offshore fishing boats. Binh's father is the team leader, but he mainly does managerial tasks from home due to his age. Mr. Binh serves as the deputy team leader, directly managing the team during trips at sea.
The ships wholeheartedly enhance mutual support at sea, for instance, promptly notifying one another when detecting strange ships and ensuring timely assistance in terms of technical issues, logistics and rescue activities.
In particular, a mutual fund of more than VND40 million has been set up to give support to sick crew members.
Along with that, Mr. Binh has been elected as the leader of a group of fishermen operating at the Tho Quang fishing wharf in Son Tra District. With a high sense of responsibility, the man often encourages other fishermen to actively participate in environmental cleanups, thus contributing to keeping the wharf clean and beautiful.
With his affection for financially-struggling crew members, Mr. Binh has always given them timely financial support and preferential loans.
In particular, this fisherman always enthusiastically participates in activities to protect the national sovereignty of sea and islands organized by functional local agencies.
In the past time, he has been selected many times for a typical example of farmers effectively doing business and actively participating in protecting the national sovereignty over its sea and islands.
Chairman of the Farmers' Association of Tho Quang Ward Pham Phuong Nam highly hailed Mr. Binh for striving reach out to the sea, and actively joining local activities. The fisherman has been awarded a certificate of merit from the Da Nang People's Committee in recognition of his remarkable achievements in the fisheries industry.
Reporting by LE VAN THOM – Translating by A. THU
.