Joining efforts to bring happy Tet to the poor
January 17, 2022, 11:21 [GMT+7]
Recently, the closer to the Lunar New Year it is, the more urgent activities Da Nang take in support for the poor. COVID-19 pandemic has caused many difficulties, but units, businesses and benefactors are still enthusiastically helping the poor, Agent Orange victims and vulnerable groups to have a loving Tet holiday welcoming the new spring.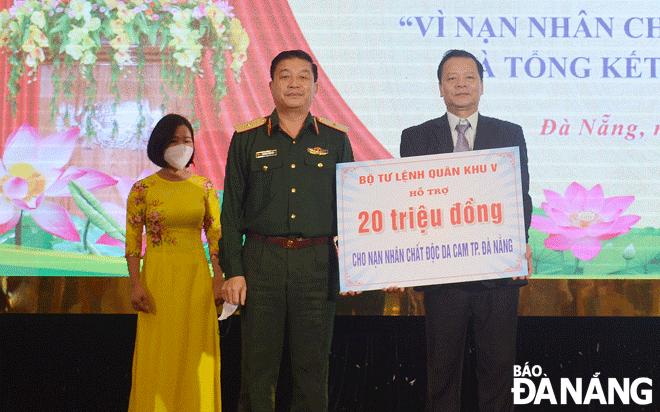 The representative of Military Region 5 Command (middle) hands over VND 20 million to support Da Nang's Agent Orange victims for the 2022 Lunar New Year via the Da Nang Association of Victims of Agent Orange/dioxin. Photo: LE VAN THOM
On January 12, at the gift-giving ceremony for poor households in Thanh Khe District, Deputy Director of the Da Nang branch of Vietcombank Le Hai Bac shared: "Business activities have encountered a bunch of difficulties due to COVID-19 but officials and employees of the unit have still enthusiastically contributed funds to support 300 poor households to help care for Tet holiday for poor households."
In the same vein, in Lien Chieu District, the Dong Cam (Empathy) Volunteer Club gave 95 Tet gifts including various necessities to members with disabilities. This club often accompanies and helps people with disabilities, especially during the Tet holiday. Thereby, spreading the spirit of mutual affection is needed so that disabled people have more motivation and conditions to rise up in life.
In particular, Master Thich Thong Quang, abbot of Lien Tri Pagoda, Son Tra District has just given a visit to encourage 22 hemodialysis patients at Da Nang Hospital with a gift and VND 200,000 per one. Loving gifts and greetings are valuable encouragement for the sick on the happy days of the Lunar New Year, helping them have more energy to overcome their illness.
In addition, a host of wards and communes across the city are also taking place an array of Tet's care activities for the poor, disabled people, Agent Orange victims and other difficult and unfortunate lives. For example, Phuoc Ninh Ward, Hai Chau District has mobilized 500 Tet gifts, each of VND 500,000 to simultaneously support poor and disadvantaged households; Thien Thanh Group supported 2,000 gifts with a total value of VND 1 billion for poor, near-poor and newly escaped poor households in Hai Chau district.
In Hoa Khanh Bac Ward, Lien Chieu District, all levels of government, the Front and mass organizations have mobilized 3,500 Tet gifts to support all poor, near-poor and disadvantaged households locally. Currently, more than 500 poor households have received Tet gifts already and the whole ward is striving to complete this activity before December 25th.
Similarly, Hoa Bac commune, Hoa Vang District has mobilized to support Tet for 100% of policy households, poor households, ethnic minority ones in the locality and organized a loving Spring Festival, supporting some other Tet supplies for poor families.
On the other hand, the Da Nang Association for Charity and Children's Rights Protection awarded 1,300 Tet gifts, VND 500,000 - 600,000 each to poor households having children. Moreover, Da Nang Veterans Association also organizes the program "Spring of comradeship" with 350 gifts to support members with difficult circumstances.
Meanwhile, the Association of Agent Orange/Dioxin Victims of the city and districts have promoted the program of giving 1,500 Tet gifts to the families of Agent Orange victims. In particular, Da Nang Red Cross Society actively mobilized 14,500 gifts with a total value of over VND 5 billion to support poor households, Agent Orange victims and vulnerable people.
Reporting by LE VAN THOM- Translating by T.VY
.