Action Month for Children 2022 launched in Da Nang
May 27, 2022, 15:31 [GMT+7]
The Da Nang government held a ceremony on Friday morning to launch the Action Month for Children 2022. This year's programme had 'Joining efforts in child protection and child abuse prevention and combat' as its theme.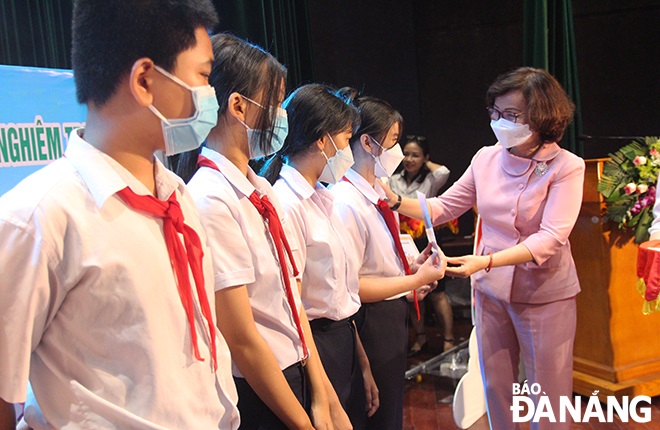 Vice Chairwoman of the Da Nang People's Committee Ngo Thi Kim Yen presenting scholarships to pupils who overcame their difficultiesto achieve outstanding academic results. Photo: Ngoc Quoc
In her remarks at the launching ceremony, municipal People's Committee Vice Chairwoman Ngo Thi Kim Yen remarked, over the past years, the city has constantly paid special attention to ensuring social welfare, as well as effectively implementing a number of children protection, care and education programms, thereby contributing to creating a healthy social environment and ensuring children's all-round development.
Included have been granting scholarships to poor studious children, building charity houses for those in need, providing free surgery for poor children with congenital heart complaints, implementing programmes to prevent children from being abused in schools, and more.
Also, Vice Chairwoman Yen asked local government departments and agencies, branches, associations, mass organisations and localities, to make specific plans to practically and effectively organise activities in order to respond to the Action Month for Children 2022.
She added, heed should be paid to widely publicising the National Child Protection Hotline 111, the Da Nang Public Service Information Centre's switchboard (0236) 1022, the 'Tre Em Da Nang' mobile app, and website https://baovetreemdanang.vn/.
In addition, great efforts should be made to increase mobilisation of financial resources to help and take care of children, build new welfare facilities for children and upgrade downgraded ones, and support programmes to improve living conditions and create equal and comprehensive development opportunities for all children.
Mrs. Yen noted the city's education sector would coordinate with the municipal Youth Union, relevant agencies and families to hand over, receive and manage children during summer school holiday, as well as teach children about protecting themselves from abuse and violence, and preventing unexpected accidents, injuries, drowning and ensuring safety when participating in traffic.
On this occasion, the municipal People's Committee granted 200 scholarships, valued at VND1million each, to pupils who overcame their difficulties to achieve outstanding academic results during the 2021-2022 academic year.
Also, the city's Association of Charities and Children's Rights Protection presented 200 gifts to children in very difficult circumstances.
Reporting by NGOC QUOC - Translating by M.DUNG
.