Bright examples learn from Uncle Ho to do meaningful activities
June 03, 2022, 17:29 [GMT+7]
They are different people doing different jobs, but they all strive to contribute silently to the community. The below-mentioned simple examples are the contributing factors to bringing Politburo's Directive No. 05/CT-TW dated May 15, 2016, on promoting learning and following Ho Chi Minh's ideology, morality and style into daily life.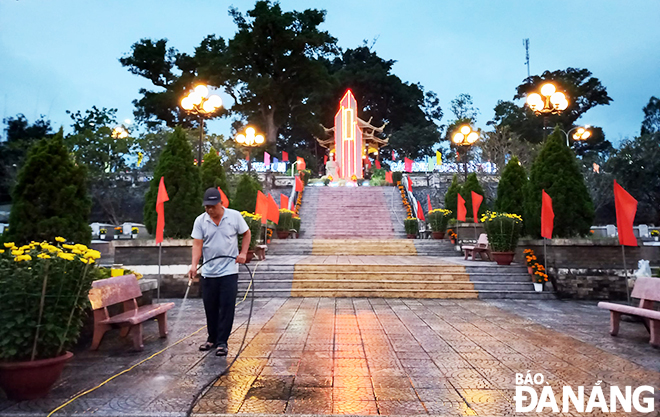 Mr. Le Duc Tuan often takes care of Martyrs Cemetery in Hoa Phong Commune, Hoa Vang District, Da Nang
1.More than 50 years ago, when he was almost 2 years old, Mr Le Duc Tuan, residing in Tuy Loan Dong 1 Village, Hoa Phong Commune, Hoa Vang District, lost his father, martyr Le Thien Doi who died in a business trip. Therefore, what he knows about his father is only through the words of his mother. However, it seems that courage, determination, and patriotism from his father have always flowed in him.
In 1988, Le Duc Tuan was facilitated by the Party and Government to cooperate in labor. After the end of his labour, he returned and started to do numerous jobs in his hometown. However, he always felt nostalgia for his father lying at the Martyrs Cemetery in Hoa Phong Commune.
Although his life was not rich, he has still put all his savings together with the local authorities of Hoa Phong, Hoa Phu, Hoa Nhon communes to repair and renew some facilities of cemetery works with the amount of hundreds of VND millions.
In 2021, at a time when the COVID-19 pandemic was complicated, Mr Tuan voluntarily registered to do the duties at local pandemic control checkpoints. Moreover, he bought vegetables and then joined with the community COVID-19 team to push carts to distribute vegetables to people. For him, doing something meaningful for the community is his daily happiness.
2.For more than 4 years now, Ms Phan Thi Minh Nguyet, Head of the Women's Union of Nhon Tho 2 Village, Hoa Phuoc Commune has come to encourage and help the family of 65-year-old woman Vo Thi Trung every day. Mrs Trung and her husband had a stroke and have been lying in the same place for many years.
Their son, Mr Nguyen Van Hieu, is the sole breadwinner of the family but he has also suffered from lung disease and had to be hospitalized for many months. Ms Nguyet also found more easy jobs for Mr Hieu to earn money to support his elderly parents.
On top of that, to have funds to help many unfortunate circumstances in the village, Ms Nguyet has encouraged union members to go to each household to collect bottles and packages, and then sort them to sell.
At the same time, she also takes advantage of her plough to call on members to contribute to cultivating abandoned plots of land for intercropping vegetables which are expected to earn tens of VND millions. This funding will be used to help the poor.
As shared by Mr. Ha Man, Secretary of the Party Committee of Nhon Tho 2 Village, Hoa Phuoc Commune, Ms. Nguyet has been enthusiastic about the union's work, and has helped many women overcome difficulties in life. Her actions, though small, show the love between people as taught by Uncle Ho.
On the daily basis, Ms Nguyet, Mr Tuan as well as many other individuals have been silently contributing to the community with their works.
They have studied and followed Ho Chi Minh's thoughts, morality and style, contributing to bringing the studying Uncle Ho's taught become a regular duty of the entire Party, people and army in the current cause of national construction and defence.
For them, giving love without expecting to receive back is not only measured by time and years but also by the depth of the heart.
Reporting by P. MINH- Translating by T.VY
.