Second families of Lao students
November 30, 2022, 18:11 [GMT+7]
Under the homestay programme for Lao students, many Lao students are arranged to live with host families in Da Nang. The programme facilitates Lao students familiarise themselves with daily activities in Vietnamese families, gain a deeper insight into the culture of Vietnamese people, and enhance their Vietnamese language proficiency as well.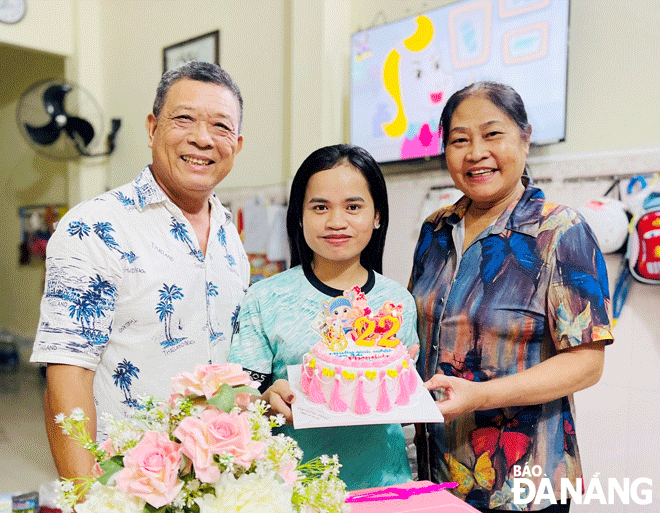 Phonelida Chanthavongsa (center) celebrates her 22nd birthday with the family of Mrs. Tran Thi Nguyen residing in Hoa Khanh Nam Ward, Lien Chieu District. Photo: X.HAU
Second families
Warm and close are words that Phonelida Chanthauongsa, 22, a student of the Faculty of Medicine and Pharmacy, the University of Da Nang, says about the family of Mrs. Tran Thi Nguyen in Hoa Khanh Nam Ward, Lien Chieu District after nearly 2 weeks of living here.
Coming to Viet Nam in February 2022, Phonelida was fortunate to know Mrs. Nguyen when participating in cultural exchange activities with senior Lao students in the city.
Thanks to that, when participating in the homestay programme for Lao students, she quickly integrated with the family of Mrs.Nguyen and always devoted a lot of love for her second mother.
Phonelida confided that she was always taken care of, and taught to cook many specialties such as Quang noodles, pancakes, and beef rice noodles, by Mrs. Nguyen.
During her stay with the family of Mrs. Nguyen, Phonelida has the opportunity to understand more about traditional Vietnamese festivals, and improve her Vietnamese speaking skills, the Lao student added.
Likewise, as for Sengmany Xong, 19, who is a student at the University of Education - the University of Da Nang, the experience of living with the family of Mrs. Pham Thi Tuyet in Hoa Khanh Nam Ward, Lien Chieu District, has left many unforgettable memories on her.
Sengmany Xong had interesting firsts in Da Nang such as going swimming in the sea, trying many local specialties, cooking Vietnamese dishes and joining Mother Tuyet in charity activities.
"The first 'ao dai' I wear was a gift from Mother Tuyet. My mother often takes part in charity trips and lets me go with her. One of the trips I remember the most is to cook free meals for children of Agent Orange. Such volunteer activities help me understand more about the benevolence of Vietnamese people" she said.
Special affection for 'Land of a Million Elephants'
Most interestingly, most of the families that receive Lao students have special love for the 'Land of a Million Elephants'. Some of them worked and lived in Laos for a while.
Ms. Tran Thi Nguyen said that her husband used to live in Laos and Thailand many years ago, so her family always considers Lao students as family members. This is the third time her family has hosted Lao international students to stay with them. Till date, many of them have graduated and returned home with stable jobs but they have still kept in touch with Mrs. Nguyen.
"My husband told me that his mother gave birth to him in Laos, so my family always has a special affection for the country" Mrs. Nguyen added.
Most of Lao students face many difficulties when living and studying far from home, so she wants to give them a helping hand. In addition, her family can understood more about the culture of Laos.
Meanwhile, Mrs. Pham Thi Tuyet used to be a logistics soldier of the Division No 2, fighting in Laos during the fierce war years.
After many years, that soldier always remembers the memories for the country and the people of Laos. Accepting Lao students is an opportunity for Mrs. Tuyet to meet Lao people again and express her affection for the country.
Chairman of the Da Nang Union of Friendship Organizations Nguyen Ngoc Binh said that since the homestay programme for Lao students was held for the first time in 2011, an annual average of 50 - 100 Lao students are facilitated to experience lives of Vietnamese families.
The programme creates conditions for Lao students to exchange languages ​​and learn about Vietnamese culture to integrate into local community life. This significantly contributes to improving the learning quality for Lao students in Da Nang, and at the same time tightening the traditional friendship and special solidarity between Viet Nam and Laos, Mr. Binh said.
Reporting by XUAN HAU - Translating by M.DUNG
.