Two sets of hearing aids donated to local children
Published: November 30, 2015
A training course on paediatric audiology took place in Da Nang from 23 - 27 November. The event, the first of its kind in the city, was attended by 32 teachers and audiologists from special schools for children with hearing impediments, plus doctors from rehabilitation departments of hospitals across 6 central localities. These localities were Da Nang, and the provinces of Quang Tri, Thua Thien Hue, Quang Ngai, Quang Nam and Binh Dinh.
Co-organised by the city's Tuong Lai (Future) Special School and the Global Foundation for Children with Hearing Loss, the course aimed to highlight the significance of early intervention with hearing aids and cochlear implants for children with congenital deafness and poor hearing.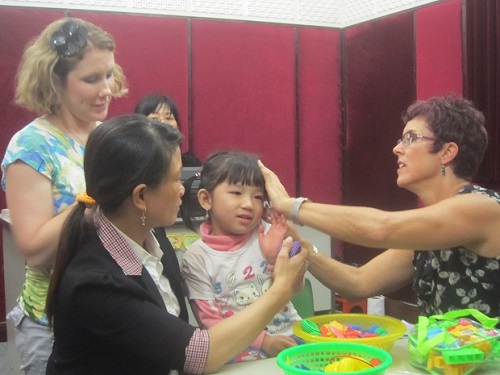 Phuong Thuy, a young girl from Cam Le District, wearing hearing aids
To mark the event, last Friday the Global Foundation for Children with Hearing Loss donated hearing aids, worth about 110 million VND in total, to 2 hearing-impaired children in Cam Le and Hoa Vang districts in Da Nang. In addition, the organisation's experts taught their parents how to properly use and maintain the equipment.
.