Positive results from promoting green urban spaces
Published: January 19, 2016
The past 5 years have seen positive results from the promotion of green urban development in Da Nang. This has helped to enhance the city's landscape character and ensure a greater quality of life for local residents.
Over the period, there have been numerous breakthroughs in investing in green infrastructure. The focus has been on developing effective plans for urban greening to adapt to climate change and create natural disaster resilience.
In particular, projects to enhance urban green spaces and appeal for public donations to help fund tree planting have been implemented very effectively. This has helped to increase the city's average green space per capita from 3.5m2 to 7.3m2.
The successful promotion of such schemes over the 2010 - 2015 period has brought many benefits for local residents and made the city more liveable. Numerous shady streets have been created across the city, including Nhu Nguyet, Bach Dang, Thang Long, Nguyen Van Linh, and Ho Xuan Huong. In addition, many promenade gardens, entertainment areas and miniature natural areas have been developed to be harmonious with their surrounding landscapes.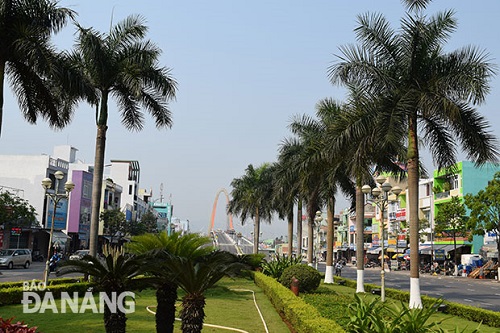 A green space along Dien Bien Phu
The above successes have been attributed to the great efforts of the local authorities, businesses and residents. The city has seen the active involvement of its authorities at the grassroots level and also residents, government agencies and businesses. Publicity programmes about the environmental benefits of green spaces and raising public awareness about promoting green urban development have proved effective. As a result, tree planting programmes have been implemented effectively by government agencies, businesses, and in residential areas. This has helped to make many streets and residential areas greener, cleaner and more beautiful. In addition, more public parks and gardens have been developed across the city. Green spaces have also been created in riverside and seaside areas as well as along major urban streets and near popular architectural structures. Most notably, a seaside protected forest has also been developed in the city.
As part of the project appealing for public donations to help fund tree planting in the city, a contest was launched last year by the Department of Construction to find good ideas for promoting green urban spaces. The event attracted a total of 114 entries in the categories of green housing, construction works, alleys, urban areas, apartment buildings and residential areas.
First prize in the green construction works category went to the Thanh Tam School for Disabled Children in Ngu Hanh Son District's My An Ward. Other winners were Ong Ich Duong urban area in Cam Le District's Hoa Tho Dong Ward, the Nesthome apartment building in Son Tra District's Man Thai Ward, and residential area No 20 in Thanh Khe District's Chinh Gian Ward.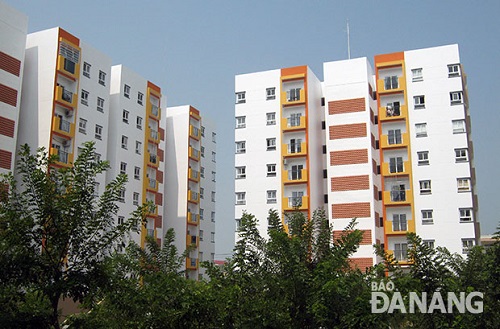 The Nesthome apartment building
Following the success of the city's urban greening projects, they will continue to be deployed over the next 5 years. In addition, a tree planting and urban park development plan towards 2030 with a vision towards 2050 has been created in accordance with the city's master plan.
In particular, approval has been given to an idea from the Department of Construction and the Institute for Social-Economic Research and Development for the municipal People's Committee to establish a 'Green Da Nang' Fund. The project will be divided into 2 stages with the first focusing on raising the fund's initial charter capital from local communities, businesses and organisations. Its second stage will focus on regularly appealing for more public donations to promote green spaces in urban areas in a sustainable manner.
According to municipal People's Committee Vice Chairman Nguyen Ngoc Tuan, the establishment of the fund will be play a significant role in improving the effectiveness of the city's urban greening projects in the future.
.