Heavier penalties imposed on traffic violations
Published: August 02, 2016
Over recent years, Da Nang has been one of the Vietnamese localities to have seen a year-on-year decrease in the number of road traffic accidents, deaths and injuries. This positive sign has been mainly attributed to the great efforts made by the local authorities in ensuring traffic safety.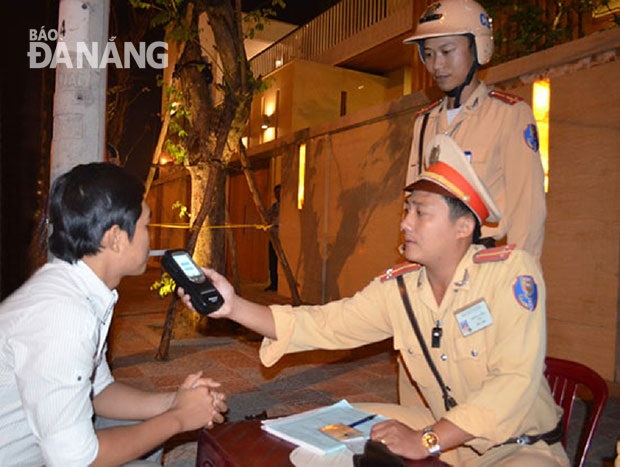 A driver undergoes a breathalyser test
The central government issued Decree No 46/2016/ND-CP in May, on stricter administrative penalties for road and railway traffic violations. The new regulations officially came into effect on 1 August.
During his recent interview with reporters from the DA NANG Newspaper, the Deputy Head of the Traffic Police Division of the city's Police Department, Senior Lieutenant Colonel Le Van Luc, remarked that the Decree would be a warning to road users to make sure that they will strictly obey the national traffic regulations. This will in turn help to reduce the number of road traffic accidents, as well as to ensure traffic safety in the city.
Senior Lieutenant Colonel Luc remarked that numerous effective measures have been taking to implement the recently-issued Decree. The focus is on offering intensive courses on the new decree for local traffic police officers, widely publicising the new regulations, and the national traffic laws as a whole, in the mass media. Special attention is also paid to using the breath alcohol concentration calculators, traffic surveillance cameras, and other related technical equipment to detect and deal with violations.
Mr Luc also noted that alcohol-related violations by road users sometimes result in even more serious accidents. According to the National Traffic Safety Committee, the number of alcohol-related cases usually account for about 40% of total crashes every year.
Under the Decree, between 16 and 18 million VND in fines, instead of up to 15 million VND as before, are now imposed on car drivers with alcohol levels of over 0.4 mg per liter of breath, or 80 mg per 100 ml of blood. They also have their driving licences temporarily revoked for between 4 and 6 months.
Meanwhile, motorcycle drivers with the same alcohol levels are fined between 3 and 4 million VND, and have their driving licences temporarily revoked for up to 5 months.
In particular, car and motorbike drivers are fined 2 million VND and 400,000VND respectively for running through yellow lights. Most notably, the same fines are also imposed on those who run through red lights.
Senior Lieutenant Colonel Luc said that few vehicle users slow down and stop when the traffic light turns yellow, instead they speed up trying to get through before it turns red. Meanwhile, people coming from other directions cannot wait patiently for the green light and start moving 3 or 4 seconds before the light actually turns green. Everyone wants to get through first, and this causes chaos, even accidents, in the middle of the intersections. He, therefore, believed that the new regulations would help to reduce the number of accidents.
.