City leader inspects construction of new cardiovascular centre
Published: March 22, 2017
On Tuesday, Da Nang Party Committee Secretary and People's Council Chairman Nguyen Xuan Anh paid an inspection visit to the construction site of a new cardiovascular centre at the Da Nang General Hospital. He also had a working session with the hospital's leaders.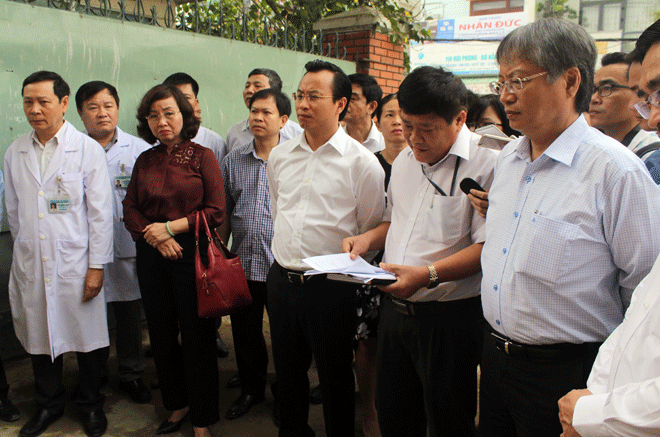 Secretary Anh (front centre) on site at the new cardiovascular centre
Mr Nguyen Tuan Son, Head of the Management Board of Da Nang Infrastructure Construction and Urban Development Projects, reported "Around 80% of the project's basic construction has now been completed. However, the site clearance work at 138 Hai Phong has yet to be completed. As a result, the construction of the infrastructure, a medical gas system, an electricity substation, a wastewater treatment system, and the garbage and guard houses has yet to begin".
He added that the 236 billion VND centre will feature a 37.55m-tall, 9-storey-plus-1-basement building providing 200 patient beds. It is one of the city's key projects in preparation for the APEC Economic Leaders' Week 2017 (AELW) in November. Once operational, the centre will provide medical examinations and treatment for patients with congenital heart disease from Da Nang and elsewhere in the central region and highlands.
At the meeting, Secretary Anh urged the relevant local agencies to accelerate the site clearance work and thereby assist the project's developer to keep progress on schedule.
The Director of the hospital, Dr Tran Ngoc Thanh, said that the hospital is facing patient overload. The 1,250-bed hospital has already added an extra 750 patient beds, even 1,200 during the peak season, in order to meet the increasing patient numbers from the city and neighbouring localities.
Secretary Anh asked the hospital to recruit more medical employees, buy more advanced medical equipment, and build more medical facilities in order to reduce the patient overload.
.