City re-nominated for 'Asia's Leading Festival and Event Destination'
Published: March 23, 2017
After winning it last year, Da Nang has been re-nominated for the title of 'Asia's Leading Festival and Event Destination' at the World Travel Awards (WTAs) Asia & Australasia Gala Ceremony 2017 which will take place in Shanghai, China on 4 June.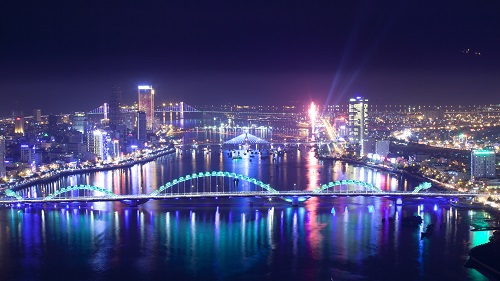 Sparkling beauty of the city at night
To win this prestigious award for the second year running, Da Nang has to successfully surpass the 8 other nominees, namely Bangkok, Shanghai, Hong Kong, Kuala Lumpur, Macau, Seoul, Beijing, and Singapore.
The public are encouraged to vote for Da Nang at https://www.worldtravelawards.com/vote, and the voting will close on 17 April.
The annual WTAs include categories of the tourism industry such as airlines, hotels, resorts, travel agencies, transport services, cruise lines and destinations.
During the rest of this year, Da Nang is set to host numerous national and international-level events. Included are the Asia Golf Tourism Convention in May, the APEC Economic Leaders' Week in November, and the Da Nang International Fireworks Festival between April and June, with all its sideline cultural activities and events.
.