Club offers free tour guides
Published: March 27, 2017
Since its establishment in early 2015, the Danang Free Tour Hometown Club has become popular with local students who want to become free tour guides for international visitors to improve their English skills.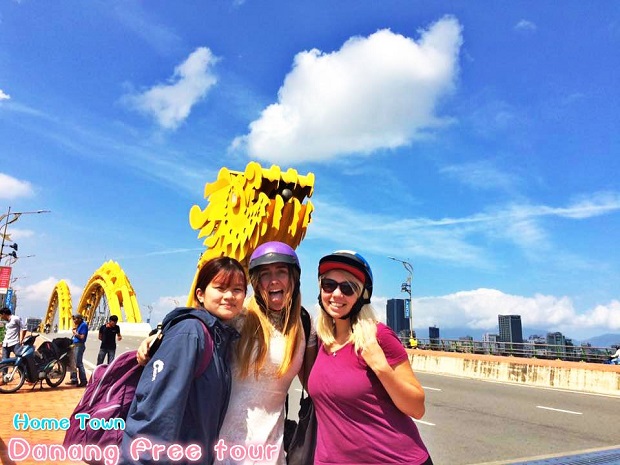 Club member and foreign visitors
The club was originally initiated by Tran Quoc Khanh and Truong Cong Tuoc, both from the Tourism Faculty of the University of Duy Tan.
In late 2014, the young men together participated in a volunteer programme with some foreign students at the city's Hy Vong (Hope) Village. After several days of working in an English environment, Khanh and Tuoc realised that their English skills had improved significantly. As a result, they went on to plan to set up a club to help local students enhance their English skills through speaking with foreigners in the city.
After recognising the usefulness of the club, Mrs Ha Nhu Hong, Dean of the International Training Faculty of Duy Tan University, decided to open free-of-charge English courses in the university in order to help the club's members enhance their English speaking and listening skills.
To date, the Club has had a total of 27 members, all students from such universities as the Duy Tan, Economics, Education, and Foreign Language Studies.
Amongst them is Huynh Ba Vu, a student from the Tourism Faculty of Duy Tan University. He admitted that before joining the club, he had not been confident when speaking with foreigners. However, after becoming a club member and taking 2 or 3 tours a week last summer, Vu has made impressive progress with his English. Now, he is the leader of a group of new tour guides at the club.
Thanks to the effective operation of the club, many foreign visitors have complimented the free tour guides via the club's own official Facebook page at https://www.facebook.com/Danang-Free-Tour-Hometown-1669141046687476/.
In particular, Mr Jesse McKay from France said, "I had a great time in the beautiful city and made many great friends. Thanks Danang Free Tour for making my visit extra special".
Mr Philippe Lainé, also from France, suggested, "The club's members just have to improve a bit on their technical knowledge about tourist places (historical events, dates, sizes, etc) and their English to become the next premium Danang Tour Agency. With the positive energy they have, I have no doubt about they will".
Tuoc hopes that his club will be ideal for helping local students to enhance their English and soft skills, and their professional working style. The intention is to help them feel more confident when seeking suitable jobs or running start-up businesses after graduation.
.