Company fined $1,700 for building 40 villas without permit in Da Nang
Published: March 22, 2017
Following recent instructions from the Da Nang authorities, the Bien Tien Sa JSC in the city has been fined 40 million VND (US$1,765) for constructing 40 villa-mansions without a building permit.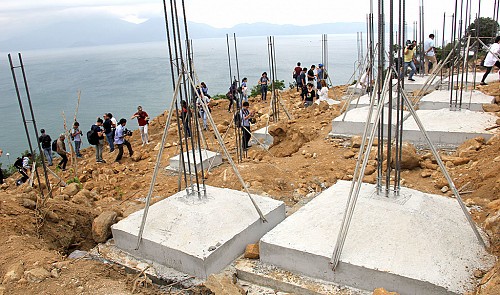 The foundation of 40 villas built on the Son Tra Peninsula. Tuoi Tre
As recently reported at http://baodanang.vn/english/society/201703/unlicensed-construction-projects-in-son-tra-district-suspended-2544641/,the company has laid the foundation of some 40 villas, as part of the Bien Tien Sa eco-resort project in Son Tra District's Tho Quang Ward, all without proper building approval.
Municipal People's Committee Chairman Huynh Duc Tho has ordered that the construction be ceased until the necessary paperwork is completed.
Relevant authorities will inspect all components of the project even after the formal permission is issued, Tho asserted, adding that the entire construction will be removed if further violations are revealed.
According to Mr Tran Van Dung, the Chief Inspector of the municipal Department of Construction, the Bien Tien Sa project was first approved in 2009 following an environmental impact assessment completed in 2007.
However, before the project was executed, the developer made some adjustments to the original design, requiring new documentation related to its environmental evaluation.
The paperwork was submitted on February 17, 2017, but was later refused due to the lack of several elements.
Instead of adding the missing sections to the environmental impact assessment, the company went ahead with its construction.
During a meeting with the local administration, Nguyen Thanh Son, the General Director of the Bien Tien Sa JSC, admitted that the firm had acted ahead of proper procedure.
Son promised to finalise all necessary paperwork, expressing his hope that the construction would be allowed to resume and maintain its schedule.
(Source: Tuoitrenews/ Da Nang Today)
.