Over 1,000 billion VND spent on social work locally
Published: March 27, 2017
Over 500 representatives from Da Nang's social work groups recently met to celebrate the 2nd Viet Nam Social Work Day (25 March).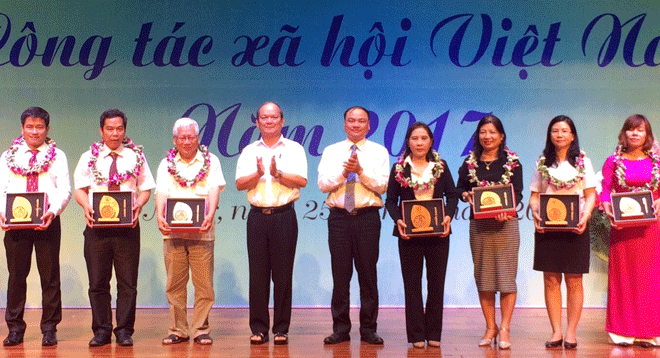 Some of the honorees
Organised by the municipal Department of Labour, War Invalids and Social Affairs (DOLISA), the event took 'Social Work in Viet Nam - Towards People's Happiness' as its theme.
Over recent years, Da Nang has been a national pioneer in implementing numerous social activities with the active involvement of the local authorities at all levels and people from all walks of life. Most notably, the city's social work models have been expanded into other localities nationwide.
To date, a total of over 1,000 billion VND, from the city's budget and raised from public donations, has been spent on developing local infrastructure and conducting programmes for the benefit of the community. The municipal centres of social work services, and social work activities exclusively for local children, plus other related organisations have been operating effectively.
Also, the city has seen many practical social activities, with a focus on helping poor single women during their pregnancy and bringing up their children, providing alternative care for children living in special circumstances, and offering community-based treatment programmes for mentally ill people.
Currently, there are a total of over 2,000 social work volunteers involved in such local aspects as education, healthcare, legal affairs and vocational training.
In the years ahead, DOLISA will focus on enhancing the operation of local social work groups and boosting volunteers' professional skills in a bid to further the professionalism of social work programmes.
Also at the ceremony, 30 individuals were honoured in recognition of their active involvement in local social work activities ensuring human rights, social equality, and progress for the benefit of people.


.