Proposals to stop construction violations and adjust Son Tra Peninsula master plan
Published: March 30, 2017
Over recent days, Da Nang has seen the problem of a few unlicensed projects and poor-quality construction works adversely affecting the local environment, the local urban landscape and labour safety, thereby sparking deep concern amongst the general public.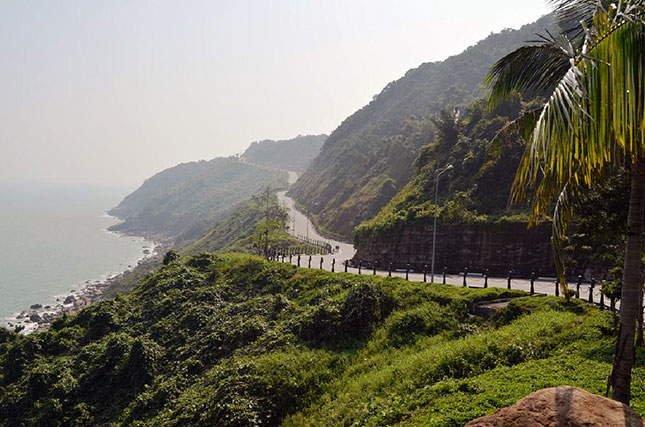 A quiet section of the Son Tra Peninsula
In an attempt to deal with these matters, the municipal People's Committee will assist the municipal Party Committee in releasing new regulations, before 30 April, which will tighten the management of urban construction orders and labour safety at construction sites in the city.
The city authorities will also submit a detailed report to the national government and relevant government agencies about the unlicensed construction of the Bien Tien Sa eco-tourism area project on the Son Tra Peninsula, the Central Coast project at the intersection of Vo Nguyen Giap and Tran Huu Phuoc in Son Tra District, and the Chinese-style housing complex at 3 Pham Hung in Cam Le District.
The report will highlight suggestions about imposing stricter penalties on any persons found to be negligent or in part responsible for such construction violations.
In particular, the municipal government will ask for the national government's specific instructions for re-checking all the legal procedures relating to the Bien Tien Sa project, with a focus on taking issues relating to defence and ecosystem protection into consideration.
The local authorities have also just proposed that the national government should make suitable adjustments to the master plan to develop the Son Tra Peninsula into a national-level tourism area by 2025 with a vision towards 2050. The intention is to better protect the peninsula's diversified ecosystem and ensure national security and defence, whilst at the same time deploying tourism development projects there.
In particular, it is suggested that the national government should refuse permission for the deployment of projects which might adversely affect local security and defence and the environment.
The local authorities have asked the owners of vacant land lots near the sites of the delayed projects to ensure environmental sanitation there.
Furthermore, special attention should be paid to placing sufficient railings and barricades around the construction sites of the projects, perhaps advertising the APEC Economic Leaders' Week in November or the Da Nang International Fireworks Festival (DIFF) 2017.
.