Tran Phu road tunnel completion pushed back to 20 April
Published: March 28, 2017
The Da Nang Management Board of Traffic Project Investment and Construction has postponed the completion deadline for the new tunnel project which will take Tran Phu under Le Duan. The project was recently set a deadline of 29 March for completion, but now it will open on 20 April.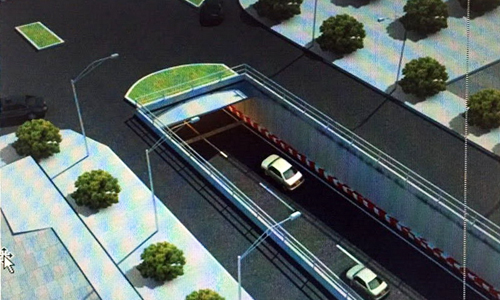 An architect's model of the tunnel (Photo: baodautu.vn)
The main reason given for the change of plan is a delay to the site clearance of the Eximbank branch at 48 Tran Phu. Only last weekend did the bank finally reach an agreement with the city authorities for compensation for the land acquisition, and they then handed over the premises to the project's construction unit.
This delay has resulted in the construction of some items on the southern side of the new tunnel running behind schedule.
After the bank site has been fully cleared, the focus will then be on moving power cables and underground cable systems, building the approach roads to the tunnel and some retaining walls, and installing electrical and drainage systems.
.