Trial of those involved in capsize of Thao Van 2 postponed
Published: March 24, 2017
On Thursday, the Da Nang People's Court decided to postpone the trial of 4 defendants involved in the capsize of the Thao Van 2 trip boat on the Han River on the evening of 4 June 2016. The delay was necessary because of the absence of the defendants' defence lawyer, many of the survivors, and some other relevant people.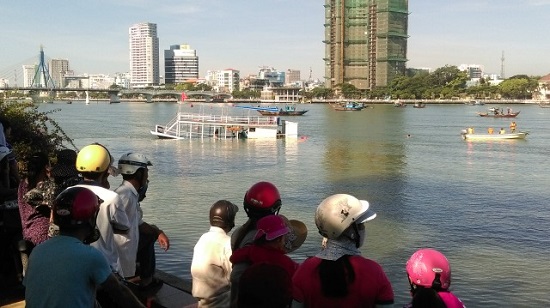 The submerged trip boat
The defendants are: 42-year-old Le Cong Chi from Son Tra District who was the captain of the boat and is charged with 'waterway traffic violations'; 45-year-old Vo Quoc Hung from Hai Chau District, the boat's owner, and 36-year-old Nguyen Ngoc Quan also from Hai Chau District, the boat's manager, who are both charged with 'putting into use an unsafe waterway vehicle'; and 42-year-old Le Sau, the Director of the Da Nang Inland Waterways Authority at the time, who is charged with 'irresponsibility and causing serious consequences'.
The trial is expected now to open on 3 and 4 April.
According to the indictment by the local prosecutors, the Thao Van 2, DNa 0016, capsized at 8.30pm on 4 June 2016 on the Han River, between the Thuan Phuoc and Han River bridges. Passenger overloading was seen as the primary cause of the accident since the boat was carrying 51 passengers, or double its regulated capacity.
The tragic incident claimed 3 lives and left 4 injured, including 2 foreigners, and caused over 570 million VND in property damage.
.