Da Nang ranked 3rd in PAPI 2016
Published: April 05, 2017
Da Nang has been ranked 3rd in the Viet Nam Provincial Governance and Public Administration Performance Index (PAPI) 2016, the 6th consecutive year that the city has been in the top 5.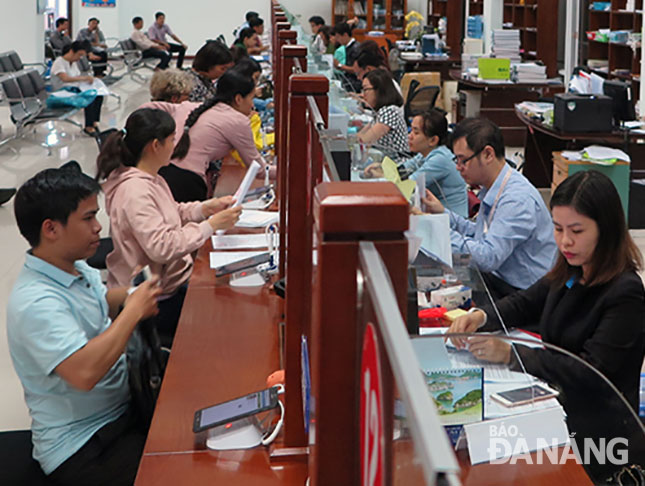 'One-stop' administration at the Da Nang Administrative Centre
In detail, Da Nang scored 38.58 points, after Can Tho City with 39.57 and Ha Tinh Province 39.32, whilst the Phu Tho and Quang Binh provinces recorded 38.53 and 38.41 points respectively.
Da Nang achieved high scores in the rankings of transparency, vertical accountability, public administrative procedures, and public service delivery.
The results were released at a ceremony in Ha Noi on Tuesday which was co-organised by the Centre for Community Support and Development Studies (CECODES), the Centre for Research and Training of the Viet Nam Fatherland Front (VFF-CRT), and the United Nations Development Programme (UNDP).
PAPI is comprised of 6 sub-indices: citizens' participation at grass-roots level, transparency, vertical accountability, control of corruption, public administrative procedures, and public service delivery.
Over 14,000 citizens, randomly selected from all 63 localities nationwide, were interviewed for the PAPI 2016 between August and November 2016. The aim was to assess citizens' satisfaction with national and local government performance in governance, public administration, and public service delivery.
According to the PAPI 2016 report released at the ceremony, there was a significant rise in the reported quality of free child healthcare nationwide, with 32% of the interviewees saying that the medical service for children under 6 was excellent compared with 23% in 2015. However, a previous decline continued in 2016 in the overall provincial performance in the control of corruption in the public sector. Therefore, the report highlighted the urgency for citizens, government agencies, social organisations, and media agencies to jointly make greater efforts to fight against corruption.
Based on international standard research methods, PAPI 2016 focused on surveying citizens' involvement in political tasks and their opinions on legal documents in order to promote their mastery rights. The results of the PAPI 2016 rankings will help the authorities nationwide improve the performance of their administrative agencies in order to provide better public services for their citizens.


.