Kind-hearted Sala Club members willing to help disadvantaged people
Published: April 05, 2017
Da Nang's 'Thien Nguyen Vo Uu' charity club (Sala Club) was established in 2011 with 5 members. At that time, the club's members voluntarily donated their own money to help poor and disadvantaged local people.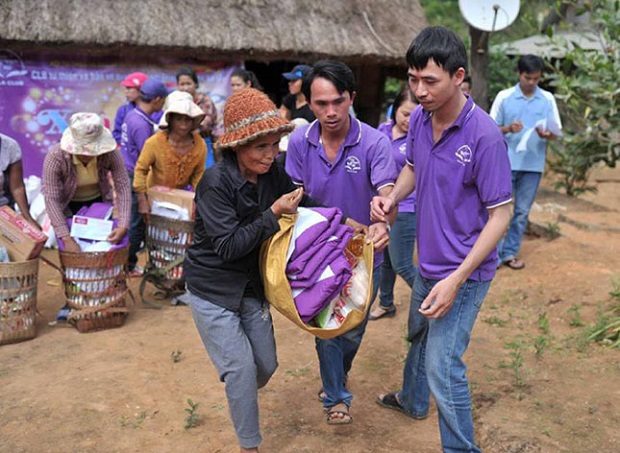 The club's members donating essential goods for poor residents in Quang Nam Province's Nam Giang District
The charity club is now operating under the management of the municipal Association of Charity and Children's Rights Protection, and its membership has now increased to 50. The members earn their livings doing many different jobs, but they are all keenly interested in doing charity activities.
In attempting to ensure the efficiency of their charity programmes, the club's leaders keep in contact with the local relevant agencies to find out about residents or organisations who are in need of help. Then they will visit them to learn more about their existing living conditions, before raising money from generous donors through their official Facebook page 'Thien Nguyen Vo Uu'.
Thanks to the money raised, numerous charity programmes have been organised in the city and neighbouring localities over recent years.
For example, the club's members visited orphaned children at the Quang Chau Pagoda in Hoa Vang District's Hoa Chau Commune, and gave them food such as sugar and milk. In addition, various exchange activities have been held at the Pagoda to bring happiness to the disadvantaged children there, including lion dances at the Mid-autumn Festival.
Importance has also been attached to giving gifts to needy residents, especially single elderly people and poor pupils, in Quang Nam Province's Duy Xuyen District. Most notably, money was raised from generous local donors to build a charity house for poor people in the district's Thu Bon Dong Hamlet.
Last year, the club's members visited flood-hit areas in Quang Binh Province to donate essential goods and food to the flood victims at a total cost of over 200 million VND.
Over recent years, the kind-hearted members have also helped some poor patients to cover their medical treatment costs at local hospitals.
Around 20 million VND was recently raised to help 19-year-old road accident victim Le Tan Dat from Cam Le District's Hoa Phat Ward, whilst another 14 million VND has been used to help 10-year-old Nguyen Thi Hoai Linh from Quang Nam Province.
The Vice Chairman of the municipal Fatherland Front Committee, Mr Nguyen Dang Hai, said that the great efforts of the Sala Club's members have helped to ensure the efficiency of local social welfare programmes, and make the city a more peaceful and liveable place.

.