PAPI 2016: Public service delivery sees improvement
Published: April 05, 2017
Public service delivery in Viet Nam has seen improvements in 2016 with a jump in the proportion of citizens with health insurance from 62% in 2015 to 73% last year.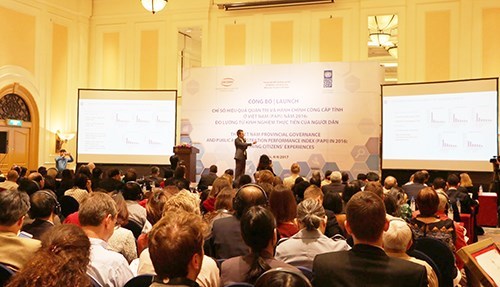 A photo of the ceremony.
The information was announced during the launch of findings from the 2016 Viet Nam Provincial Governance and Public Administration Performance Index (PAPI) Report in Ha Noi on April 4.
Over 14,000 citizens randomly selected from all 63 provinces interviewed for the 2016 PAPI, which assesses citizen experiences with national and local government performance in governance, public administration and public service delivery.
According to the report, there was a significant rise in the reported quality of free child health care, with 32% saying that the service for children under 6 years of age was excellent compared to 23% in 2015.
The results also show that voter turnout for the National Assembly elections increased by 2% to 69% compared to the most recent elections in 2011.
About 6.8% of the respondents reported having land taken in 2016, indicating that land seizures remained at the same general levels as in 2015 (7.4%) and 2014 (5.7%), far less than the average of 9% for each year prior to passage of the 2013 revised Land Law.
In terms of citizen participation at local levels, the best five performing provinces were Ha Tinh, Bac Ninh, Bac Giang, Thai Binh and Thai Nguyen while the five poorest include Tra Vinh, Binh Duong, An Giang, Kien Giang and Ca Mau.
In respect of transparency in local decision-making, of the 16 best performers in the dimension, 14 were northern and central provinces. The poorest performers were found more often in the south, with the poorest performing provinces of Soc Trang, Tra Vinh, Ca Mau and Bac Lieu.
The decline in overall provincial performance continued in 2016 in the control of corruption in the public sector dimension. Among the top 16 best performers, eight are Mekong Delta provinces and five are from the central coast region.
PAPI measures six dimensions: participation at local levels, transparency, vertical accountability, control of corruption, public administrative procedures and public service delivery.
It is a collaboration between the Centre for Community Support and Development Studies (CECODES), the Centre for Research and Training of the Viet Nam Fatherland Front (VFF-CRT) and the United Nations Development Programme (UNDP).
Speaking at the event, Kamal Malhotra, UN Resident Coordinator and UNDP Resident Representative in Viet Nam, said "the 2016 PAPI results paint a mixed picture. On the one hand, there has been steady improvement in the performance of public service delivery over the past six years. However, most provinces can do more to improve the competence and attitude of civil servants and public employees and enhance the transparency, responsiveness, and accountability of their institutions."
The survey has been implemented nationwide each year since 2011.
(Source: VNA)
.