85 year-old man earns master's degree
Published: June 13, 2018
A recent graduation ceremony at the Da Nang-based Duy Tan University saw a special postgraduate, 85-year-old Le Phuoc Thiet from neighbouring Quang Nam Province, who got a master's degree after surmounting obstacles associated with aging, frequent illness, and family-related issues.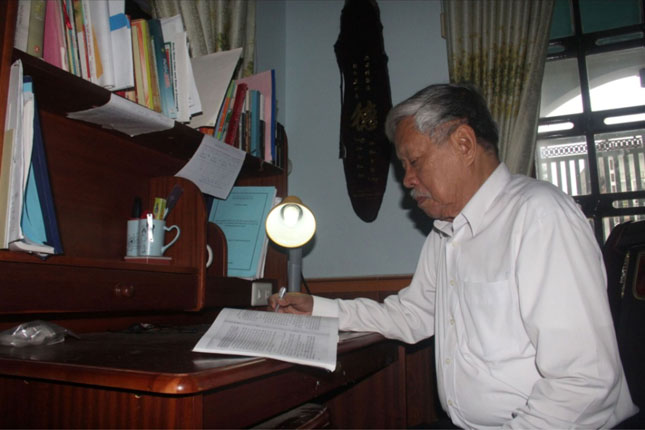 Despite his old age, Thiet showed his positive attitudes towards his studies
The octogenarian applied for a master's course in business administration at the city's renowned private university at the age of 82.
After leaving Viet Nam for the US in 1975, Thiet had to put aside a dream of pursuing his studies because he did his utmost to make money in an attempt to support himself and his wife along with 7 children.
It was not until 1995, when the children were all married, that he attended the California State University at the age of 62, and obtained a Bachelor's degree in economics 7 years later.
In 2013, Thiet and his wife returned to their hometown in Quang Nam Province's Dai Loc District in a bid to facilitate the latter's treatment of dementia, while their children decided to settle down in the US.
Two years later, at the age of 82, he enrolled in a master's degree course at the Duy Tan University.
Unfortunately, his beloved wife passed away shortly after his enrollment.
Thiet confidently said that his pursuit of higher education aims to ensure the maintenance of his brain health and memory function, and also importantly, setting a shining example for the younger generations to follow.
Although the elderly man lives far away from the university, during the course of three years, he did not drop a single class.
He even braved the stormy weather traveling over 30 kilometers by bus to go to school. Sometimes, he reached home at 11.00 pm after the night-time class.
No matter how hard life is, Thiet, who is very good at English, far surpassed other students and passed exams with flying colours.
He spent much of his time reading books in the university's library, and taking physical exercises to improve his memory, apart from actively participating in extracurricular activities to build a good relationship with his classmates, none of whom were older than him and many at the age of his grandchildren.
Thiet's strong determination and great efforts in learning left a deep impression on lecturers and students at the university.
Dr Vo Thanh Hai, the Duy Tan University's Vice Rector, highly praised Thiet's academic achievements and his positive attitudes towards his studies.
In particular, the octogenarian would invariably be the first person to get to the class, no matter whether it rained or shined.
The degree he has obtained is of significance to his 7 children, 15 grandchildren and 4 great grandchildren.
With his master's degree, Thiet sends a meaningful message that it is never too late to learn.
.