Female doctor's ceaseless devotion to noble professions
Published: June 20, 2018
Doctor Pham Thi Anh Hong, the Deputy Director of the Da Nang Emergency Centre 115, has been amongst the 70 outstanding individuals nationwide honoured at a recent ceremony to celebrate the 70th anniversary of President Ho Chi Minh's Appeal for Patriotic Emulation (11 June) in recognition of their active engagement in patriotic emulation movements.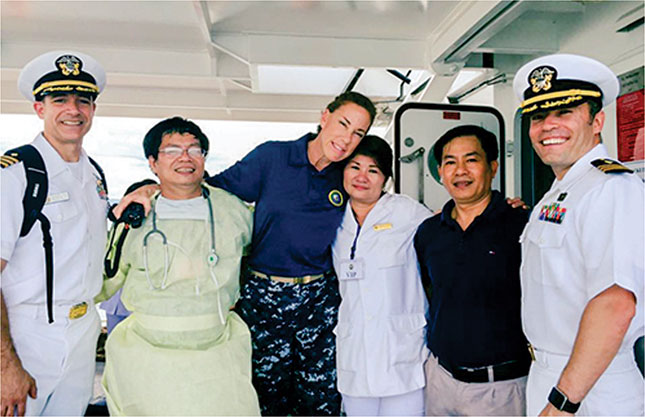 Hong (3rd right) and American doctors from the US Navy's Military Sealift Command hospital ship during their previous trip to Da Nang
Hong recalled that when she was a school-aged girl, her younger brother suddenly suffered from a serious disease, with his chance of survival being left hanging by a thread.
Seeing doctors wholeheartedly do their utmost to save her brother's life at that time, Hong bursted into tears of joy as her brother was out of the critical condition, and his health recovered little by little, thanks to the great dedication made by the doctors day after day.
From that unforgettable moment, the young girl decided to pursue her dream of becoming a doctor to save human lives, and she was then admitted into the Hue University of Medicine and Pharmacy as a initial step path to make her dream come true.
Having graduated from this central region prestigious university in 1990, Hong began working at the Emergency Ward at the Da Nang General Hospital, and 5 years later, she was assigned to work for the Quang Nam-Da Nang Emergency Station 05, now known as the municipal Emergency Centre 115.
Over the past 23 years, Hong was highly respected and praised by her colleagues and patients for her tremendous devotion, great dedication, and high sense of responsibility towards her long-life noble career.
In any emergency cases, Hong and other doctors from the Emergency Centre 115 always race against time to come to the rescue of those in distress because every minute that passes reduces victims' chances of survival.
The memories of the emergency activities have still remained deep in Hong's mind, regardless of the passing of time.
One of the most never-forgotten memories is that Hong and other local doctors took the trouble to rush to Quang Nam Province's mountainous Tay Giang District, which borders with Laos, to help a pregnant ethic minority woman living here successfully deliver her baby.
In another case, in 2013, after receiving an phone call for urgent help from a local woman and her 3 children who were trapped inside her house which was likely to be destroyed by powerful storm Nari at that time. In a quick fashion, Hong managed to ask relevant agencies to rush to the scene to help the storm victims, whilst continuously making them feel secure.
While fulfilling their the main duty of helping those on the mainland, Hong and other doctors from the Emergency Centre 115 have been willing to be onboard rescue ships dispatched by with the Zone II Maritime Rescue Coordination Centre (Da Nang MRCC). They head straight in a quickly fashion to the national waters in an attempt to rescue those who are in distress at sea, and safely bring them back to the mainland for treatment over the past years.
In some cases, such trips are truly a race against time to come to the rescue of those in distress, a struggle against rough seas and stormy weather, and also an ordeal with other looming menaces.
.