GEF's discussions focus on conservating marine and biodiversity environment
Published: June 27, 2018
At meetings within the framework in the on-going 6th Assembly of the Global Environment Facility (GEF) in Da Nang, the delegates on Tuesday demonstrated their strong commitment to some key environment-related aspects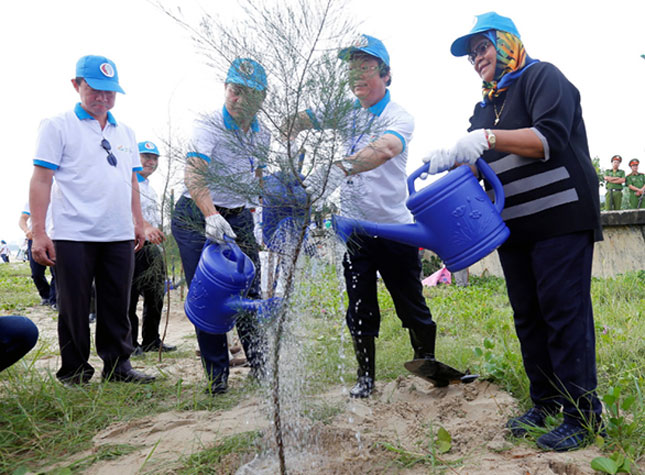 The leaders of the Vietnamese Ministry of Natural Resources and the Environment, along with GEF-6 delegates planting willow trees along the Thanh Khe beach
Included were the tackling of plastic waste which poses the threats to the marine and oceanic environment, developing tourism in association with the preservation of natural landscapes and biodiversity, and ensuring sustainable urban development in combination with maintaining the efficient use of energy, and reducing greenhouse gas emissions.
Vietnamese Minister for Natural Resources and the Environment Tran Hong Ha said the government has proposed an initiative of building regional partnerships in management of plastic waste in the Southeast Asia as well as a global mechanism in promoting positive measures of clearing waste in the ocean.
"Discharge of plastic waste into the ocean is an alarming issue. It has heavily polluted the ocean, damaged the marine ecology system and threatened food security," Mr Ha said.
"We highly appreciate the contribution of international partners and organisations in assisting Viet Nam deal with plastic waste pollution. Viet Nam is expecting more international support in promoting our initiatives and commitment to plastic waste reduction for a plastic-free ocean", he added.
Director General of Viet Nam's administration of Seas and Islands (VASI), Ta Dinh Thi, said the GEF-6 was an opportunity for the country to share experience and management skills with global partners and regional countries in the fight against plastic waste pollution on land and at sea.
On Tuesday morning, under a programme entitled 'Join Efforts to Protect the Ocean', a total of 500 GEF-6 delegates become actively engaged in together collecting plastic waste and planting trees along the Nguyen Tat Thanh Beach in Thanh Khe District.
Ms Adriana Dinua, the Executive Coordinator of Global Environmental Finance at the United Nations Development Programme (UNDP) said her agency has enthusiastically helped Viet Nam to promote its green growth. She underlined a must-do for Viet Nam to strengthen waste management and collection, put waste in the right place, stop littering, increase the use of environmentally friendly products, and reduce the use or say no to disposable plastic products.
In his remarks at the meeting, within the framework of GEF-6, on accelerating energy efficiency in buildings, Deputy Minster for Construction asked for help from GEF and UNDP, during the GEF's 7th cycle (GEF 7) from 2018 – 2022, to faciliate Viet Nam to implement its energy efficiency activities in buildings, hereby helping to promote the green and sustainable growth of Viet Nam.
In the current context of buildings continuing to be the largest consumer of energy worldwide, it's high time to make policies which prioritise energy demand reduction, incentivise the use of efficient equipment and reinforce building energy code compliance. Optimising building control systems, monitoring the use of energy, and user awareness are important tools to reduce energy consumption.
As a side event at GEF-6, the Global Platform for Sustainable Cities (GPSC) took place on Tuesday with the focus discussion about leveraging urban solutions for global environmental benefits.
GPSC's event in Da Nang demonstrated how cities can respond to their development challenges by tapping into the platform's practical knowledge, scalable solutions, and financing opportunities which encourage urban solutions for environmental benefits. During the event, the International Finance Corporation (IFC) joined GPSC as an Investment Partner. An overview was be given of GPSC's activities since being founded in 2016, along with the platform's next steps heading towards GEF-7. Lastly, a panel comprising representatives from a diverse range of GPSC's collaborators discussed how cities can further leverage the solutions offered by GPSC to advance global environmental benefits.
Ms Xueman Wang, the Senior Urban Specialist and GPSC Programme Coordinator at the World Bank said her agency is appealing for all countries and cities, especially Da Nang, to participate in the GPSC. Led by the World Bank, the GPSC is a forum for knowledge sharing and partnership to achieve urban sustainability.
Another side event at GEF-6 on Tuesday is a meeting entitled 'Biodiversity Conservation and Sustainable Tourism.
During his speech at the event, Minister of Natural Resources and the Environment Tran Hong Ha highlighted the important role of ecotourism and nature-based tourism in Viet Nam's economy in the future, and in creating positive change in the country's biodiversity conservation and sustainable development. He believed that, in the next 4 years, Viet Nam would continue to receive more support from the GEF to accomplish these important tasks.
.