Hot spell heightens risk of forest fires
Published: June 14, 2018
A prolonged heat wave in Da Nang is expected to hit record highs in the coming days, heightening concerns about forest fires.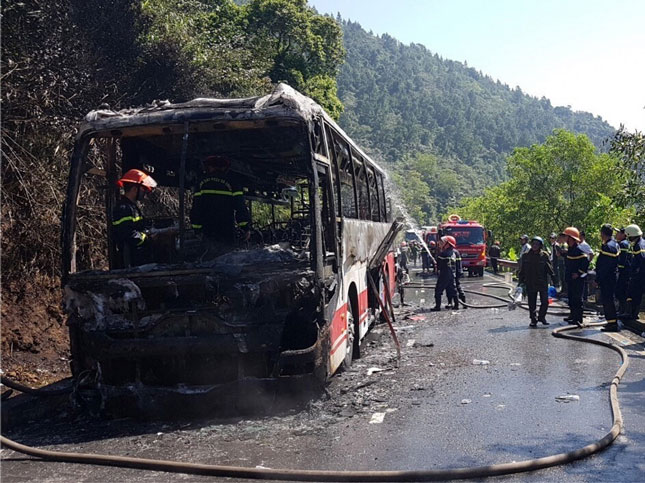 The damaged 45-seater coach after the fire
According to a spokesperson for the Fire Fighting and Prevention Office No 3, since early last year no forest fires were recorded on the Son Tra Peninsula.
However, a vegetation fire occurred in the Linh Ung Pagoda in Son Tra District on 26 April 2017. The main cause of the incident was thought to be that passengers lit cigarettes, and threw them into grass.
Also last year, an electrical short circuit at a parking area in the district's Bai Ban tourist site narrowly caused forest fire.
Mr Tran Thang, Head of the Son Tra-Ngu Hanh Son Forest Ranger Division, said that the Son Tra forest is facing high risks of fire due to visitors' irresponsible behavior in burning incense and votive papers, and throwing cigarettes. In addition, visitors cook dishes and use fire during their overnight camping trips in the forest.
Burning incense, votive papers and beehives to get honey are considered major causes of fires in the Nam Hai Van forest in Lien Chieu District's Hoa Hiep Bac Ward.
On 15 February, a 45-seater tourist coach suddenly caught fire at the top of the Hai Van Pass.
After receiving a report about the blaze, the city's Department of Fire Fighting and Prevention immediately sent 3 fire engines and dozens of firefighters to the scene to control the blaze, and prevent the spread of fire to nearby forest.
Mr Nguyen Huu Thiet, Vice Chairman of the Lien Chieu District People's Committee, stressed the need for relevant local agencies to increase their checks and tighten their monitoring of production and business activities on forest land, and picnic activities in a bid to prevent forest fires.
The district authorities have prohibited local residents from burning dry vegetation during the current dry season between April and September.
Mr Nguyen Thanh Nam, Vice Chairman of the Son Tra District People's Committee, remarked that his district is joining forces with the Fire Fighting and Prevention Office No 3 to develop specific plans for forest fire fighting and prevention, as well as building a water reservoir on the Son Tra Peninsula.
Heed would be paid to installing surveillance cameras and fences on the peninsula in order to ensure the efficiency of the forest management and protection.
.