Poor boy with blood cancer in desperate need of help
Published: June 19, 2018
14-year-old Vo Van Vu from Quang Nam Province's Thang Binh Province, has put aside a dream of pursuing his studies to undergo long-term treatment for his life-threatening disease: blood cancer.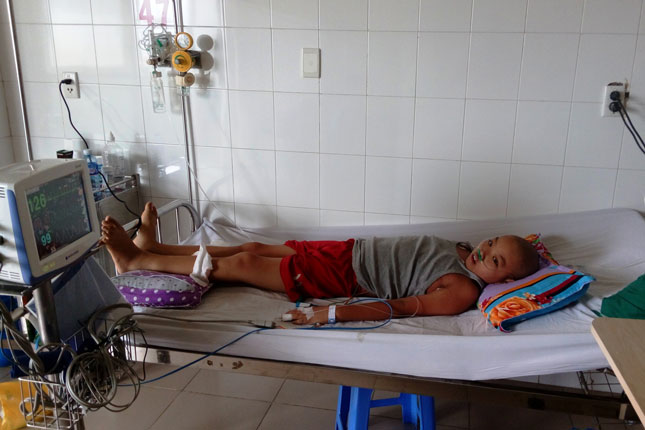 Vu is now in the city's Paediatric and Maternity Hospital
Now, his poor parents are in very desperate need of financial assistance from benevolent philanthropists from both home and abroad to cover the cost of medical treatment for their beloved son.
One month ago, Vu was rushed to the city's Paediatric and Maternity Hospital due to exhaustion, weight loss and pale skin.
After a blood test, the hospital's doctors detected that Vu was suffering from acute lymphocytic leukemia, a type of cancer in which the bone marrow makes too many immature lymphocytes (a type of white blood cell).
This unexpected, devastating blow indeed shocked and deeply saddened his parents.
Vu is now in the hospital and, although he used to be an active boy, he is not able to physically move.
To date, the costs of chemotherapeutic sessions and the treatment of sepsis for the poor child patient have climbed to over 130 million VND.
According to the prognosis, Vu is required to receive a long-term treatment which might last at least between 2 and 3 years.
In addition to the daily medication and chemotherapy once a week, Vu must be given regular blood and platelet transfusions to save his life.
Vu's family is very poor as his parents earn only a little money from doing unstable jobs.
Now, Vu's father is earning a little money from working as a mason assistant near the hospital, whilst his mother has just left her low-paid job in order to spend more time taking care of him in the hospital.
The costs of the subsequent medical treatments are expected to be so high that Vu' parents can not afford them.
Worse still, the couple is also shouldering the heavy burden of caring for his 9-year-old brother who is suffering from cognitive developmental delay.
Donations for the ill-fated boy can be sent to the DA NANG Newspaper, 6 Tran Phu Street, Da Nang (Phone: 0511 3812341 and 0905832222) or to Vu's father Vo Van Huong (Phone: 0961787440) and his mother Ho Thi Ha (Phone 01695041829).
.