Enhancing food safety management at restaurants and hotels
Published: October 17, 2018
As a major tourism hub in Da Nang, Son Tra District is now home to a total of 254 accommodation establishments and 252 restaurants. All they are attracting millions of domestic and foreign visitors to stay and use drinking and eating services every year.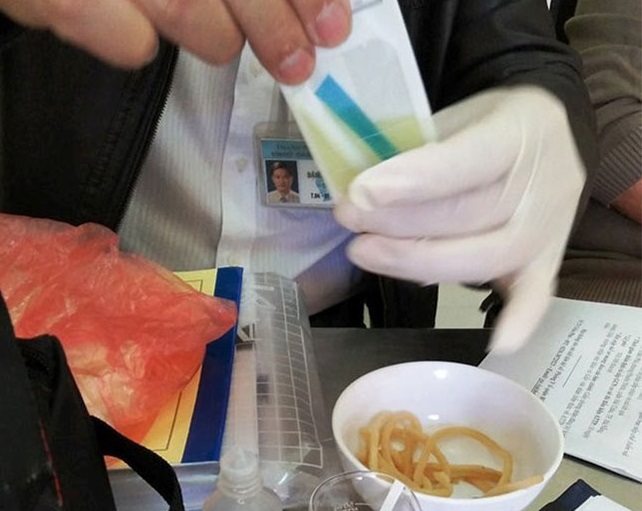 Taking food samples for testing
Therefore, the district authorities have always paid special attention to tightening their management of food safety and hygiene at these establishments with an emphasis on drinking and eating services to ensure the health of their customers, including visitors to the city.
In particular, since the start of this year, the district's Interdisciplinary Steering Committee on Food Safety has made great efforts to encourage accommodation and food service providers to obey the city's regulation on food safety and hygiene through publicity and monitoring activities.
Especifically, the district agency has paid inspection visits to a total of 2,723 food services providers, food processing facilities and school kitchens in the locality to enhance their monitoring of food at these venues.
As a result, fines totalling 75 million VND have been imposed on 40 establishments for violating the city's regulation on food safety and hygiene.
Recently, the district's Health Office has granted food hygiene certificates to 64 food production, processing and trading facilities.
Mr Phan Minh Hai, Deputy Secretary of the Son Tra District Party Committee, remarked over the past 2 years importance has been attached to widely publicising the 'City of 4 Safe Programmes' campaign, with a focus on ensuring food safety for locals and visitors.
Heed has been paid to taking food samples at accommodation and food establishments in order to test them for the presence of prohibited substances.
Notably, the district authorities have encouraged a total of 3,232 food processing and trading establishments across the locality to sign commitments to ensure food safety.
In the coming time, the focus will be on continuing to widely publicise food safety-related knowledge amongst local food service providers, increase checks and tighten the monitoring of food trading and processing establishments, as well as implement a project on the management of street food.
.