Local fishermen rescued at sea off Quang Binh
Published: December 08, 2018
A group of nine fishermen adrift on a fishing boat were saved off the coast of Quang Binh on Friday as their vessel was towed to safety.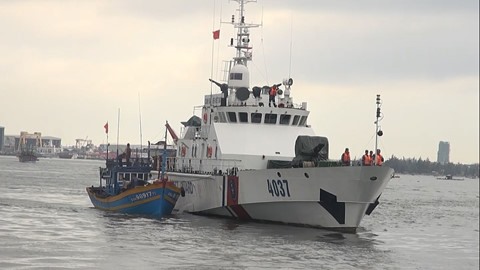 A rescue ship from the second regional coast guard tows the boat with nine fishermen on board to port. — Photo thanhnien.vn
Earlier on Thursday, upon hearing the news that the crew was fishing off the coast of Quang Binh when the boat's engine broke down, the command of the second regional coast guard assigned a ship to immediately initiate a search for the boat.
The fishing boat, coded DNa90917 TS, was captained by 42-year-old Nguyen Van Do, a native of Da Nang.
Due to rough seas, it took two hours for the rescue ship to reach the boat and tow it to the mainland. All the fishermen are in a stable condition.
On Thursday, a fishing boat with eight fishermen was also saved by command of the first region. The boat was led by Hoang Van Tien, 22, from Nghe An Province's Quynh Luu District. Its engine failed 80 nautical miles off Cua Hoi Beach. The trawler was towed to the province's Lach Quen Port after drifting at sea for a day and a half.
(Source: VNS)
.