City becomes hopeful destination for infertile foreign couples
July 22, 2019, 17:42 [GMT+7]
In recent times, many infertile foreign couples worldwide have come to Da Nang, and Viet Nam as a whole, for in vitro fertilization (IVF) because the cost for infertile treatment services are very cheap, while the success rate is much higher than in other countries.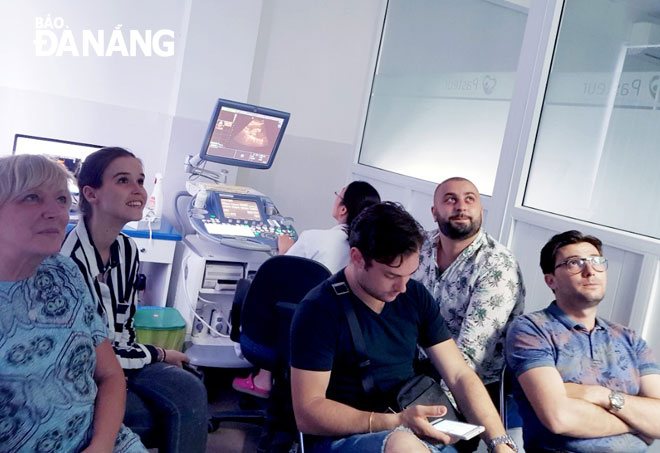 Relatives of a pregnant woman are seen watching fetal ultrasound images
After having trouble conceiving a child, Ms Madeline, a 33-year-old French national, and her husband decided to try to have a child through IVF for many years in her country, but all their efforts were in vain.
During her business trip to Da Nang, the childless woman was determined to struggle to get pregnant after many years of tears and disappointment. Finally, the couple decided to try another IVF attempt under the medical advice and instructions from doctor Dong Thi Hong Trang at the Lien Chieu District-based Pasteur Clinic, and finally, a burning desire to hear the cries of babies in their family has become a reality.
Having received the happy news from this foreign couple, their close relatives from France, in prompt fashion, flew to the central Vietnamese city for watching pregnancy ultrasound images. The lucky woman is now 5 months pregnant.
Meanwhile, Ms Angie, a 35 -year- old Mexican-American woman, had chromosome disorder, which made it difficult for her to conceive naturally.
The woman and her husband had all been hoping to have babies for years, and had experienced a range of feelings along the way, including anxiety, happiness, disappointment and hope.
Despite many potholes on their road to IVF success, they had always nurtured the hope that one day they will have a child together.
The couple said they once went to Thailand, which is one of the best countries in the Southeast Asia for infertility treatments, but their hope was totally dashed after an unsuccessful IVF treatment.
Luckily, Ms Angie's friends in Da Nang proposed her to try another luck at the Da Nang Maternity and Pediatrics Hospital where many so-called 'test tube babies' had been delivered successfully over recent years.
In September 2017, Angie started taking medications prescribed in her IVF stimulation protocols. Doctors from the hospital, then, successfully performed a follicular puncture for egg retrieval and an embryo transfer.
Aside from childless foreigners, a growing number of overseas Vietnamese couples have decided to come back to their roots for infertile treatment services, and finally, fortune smiled on many of them.
Doctor Trang from the Pasteur Clinic confidently said, though Viet Nam has fewer years of experience than other countries, the success rate in IVF operations in the country is very high, while the operation costs are very low.
Recent achievements in infertility treatment in Viet Nam have not only given fresh hope to childless couples, but also earned the country international recognition.
The cost for an IVF case in Viet Nam is less than 5,000$ while it ranges from 15,000 $ to 30,000 $in other countries.
In reality, the number of foreigners living and working in Viet Nam has increased significantly over recent years. "I hope that, in the near future, given the high success rate, good heath care services and relatively competitive costs, Viet Nam would grow into a highly reliable destination for infertile couples from all over the world ", said doctor Trang.
.