Cultivating creative aspirations for students
July 23, 2019, 17:07 [GMT+7]
Over recent years, a large number of students from the Da Nang University of Science and Technology have showed their keen interest in conducting their scientific research activities in order to create many useful technology products.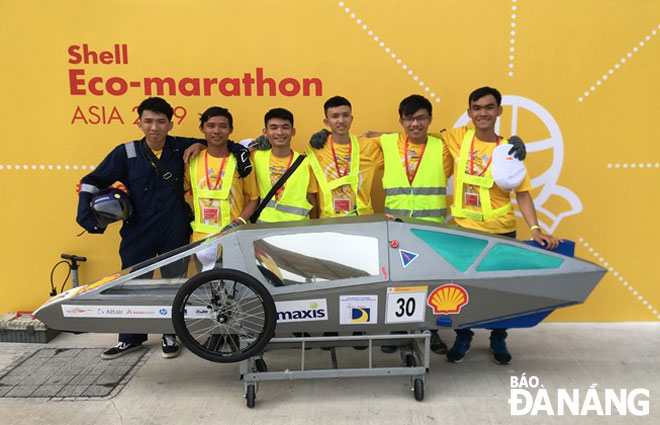 Members of the DUT Gatech Team and their product
In May, the DUT Gatech Team of students from the University's Transportation Engineering Faculty was one of the two Vietnamese teams which were ranked amongst the top 10 outstanding contestants in the Shell Eco-marathon Asia 2019.
Shell Eco-marathon Asia is an annual competition held for teams in the Asia Pacific and Middle East regions. This year's event took place at the Sepang International Circuit, Selangor, Malaysia, from 29 April - 2 May.
The 4-day event attracted over 100 teams of students from 18 countries worldwide, and the contestants competed in designing and making the most fuel-efficient vehicles.
Student Nguyen Viet Dung, a DUT Gatech Team member, said excitedly this international competition provided useful experiences for him and his teammates, thereby helping them turn their theory they learn in their schools into prototypes for technological solutions to real-world problems.
"The competition provided us the opportunity to perfect our knowledge and improve necessary soft skills such as teamwork, working under pressure, making detailed plans, presentation, and convincing" Dung added.
In addition, another group of students from the University won the first prize of 200 million VND at the recent Ideas of Volunteer Students Competition for their multi-purpose trash collecting device which is able to collect trash along beaches and underwater. The students are Vo Anh Khoa, Tran Van Nhat and Truong Van Binh.
After that, these students have received orders from the municipal Youth Union and the Young Entrepreneurs' Association.
Assoc. Prof. PhD. Doan Quang Vinh, Rector of the University of Science and Technology, remarked his university always encourages his students to conduct scientific research activities in order to improve their self-learning abilities and critical thinking to deal with practical problems.
Assoc. Prof. PhD. Phan Cao Tho, Rector of the city's University of Technology and Education, noted during the 2018-2019 academic year, his school gave financial aid to its Study-Research Team to implement 53 scientific research works. Most notably, many of them featured creativeness and high applicability.
Assoc. Prof. Nguyen Ngoc Vu, Director of the University of Da Nang, the university and its member schools would continue promoting the development of such space as the Maker Innovation Space.
Based at the University of Da Nang (UDN) at 41 Le Duan, the space is a key component in initiating a culture of innovation by providing an experiential space where students can design, create, innovate, and develop work-ready competencies. The area is designed to empower students to engage in a range of activities such as sharing their ideas, designing, building, and developing their new products. Students also have an opportunity to become involved in a combination of hands-on processes, networking, and participate in industry- led programming.
.