Heading towards building food safety market model
July 25, 2019, 15:13 [GMT+7]
Piloted at Da Nang's Han Market in 2013, the civilised and food safety market model has been expanded into others across the city. As a result, it has proved extremely effective as demand for safe food is growing.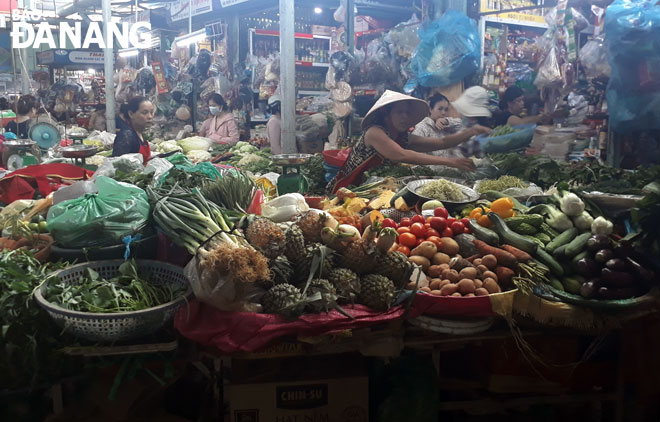 Vegetables on sale at the city-based Dong Da Market
One of Hai Chau District authorities-released guidelines for this year is to raise awareness of ensuring food safety and hygiene amongst traders at traditional markets.
This type of markets must meet the criteria of ensuring security, meeting the national firefighting, fire and natural disaster prevention standards, as well as complying with the national regulations on food safety and hygiene and on environmental hygiene.
The downtown district is now home to such big markets as Han, Dong Da, Hoa Cuong, Hoa Cuong, Moi, and Nguyen Tri Phuong where the bustling trading atmosphere is usually seen.
In the current fact of tougher competitiveness from modern retail systems, including supermarkets, trade centres and convenience stores, traditional markets must comply with food safety and hygiene regulations in a bid to attract even more shoppers.
It is worth mentioning that the criteria for this year's food safety market model seem stricter.
According to Mr. Nguyen Tan Hai, the Head of the municipal Food Safety Management Board, under the new regulations, traders touting business at markets are required to show the clear origin of their goods on sale, especially meat and seafood products.
Also, there must be invoices and other relevant papers regarding the transparent purchase of products and the traceability of food materials, additives, processing aids, tools, and packaging items.
Last, but not least, necessary information on the name and address of the goods providers, delivery date, and the quantity, and volume of goods should be publicised.
Based on the current criteria, the Hai Chau district authorities have registered to build the food safety market model at the Hoa Cuong Market for this year, whist the Moi and Nguyen Tri Phuong will apply it next year, and the subsequent years.
In recent years, it's become increasingly common to hear about cases of unscrupulous food sellers in their pursuit of profits, using banned chemical in meat or excessive concentrations of pesticide in vegetables to increase or maintain the food's appeal to consumers.
To address these issues, it is a high time for relevant agencies to take more effective measures to maximise the efficiency of the food safety market model, thereby maintaining the image of traditional markets, and helping them win the trust of shoppers.
The success of this practical model plays an important role in helping the city effectively implement the ongoing landmark 'City of 4 Safe Programmes' campaign.
.