Social distancing should be kept in high-risk localities: committee
April 15, 2020, 16:59 [GMT+7]
The National Steering Committee for Covid-19 Prevention and Control on April 15 agreed to propose Prime Minister Nguyen Xuan Phuc apply the social distancing policy for at least one more week in localities with high risks.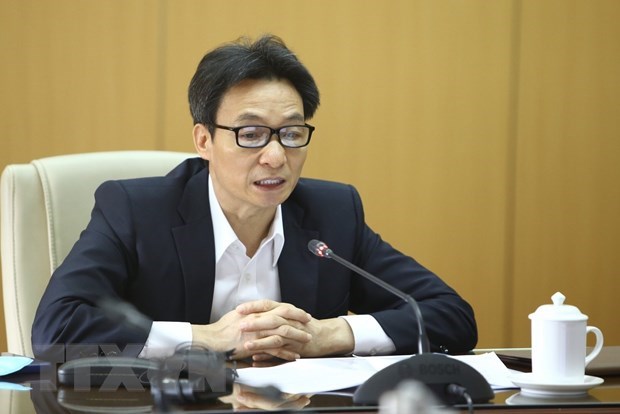 Deputy Prime Minister Vu Duc Dam, who is head of the National Steering Committee for Covid-19 Prevention and Control, speaks at the meeting (Source: VNA)
At the committee's latest meeting, its members said that Viet Nam has well controlled the disease thanks to the implementation of social distancing measures as regulated in the PM's Directive No.16/CT-TTg on a two-week period from April 1-15.
However, the disease's developments remain complicated, they stated, stressing the need for more drastic measures to deal it, and at the same time ensure people's life and production and business activities.
The committee reached a consensus on putting forward compulsory regulations for all localities, such as continuing to wear face masks, banning big gatherings, keeping a distance of at least 2 metres among the people, and ensuring hygiene. Important political, economic and social events will be organised in accordance with instructions on medical supervision to ensure safety.
In localities with risks or low risks of the disease outbreaks, several production and business activities can be resumed when sanitation is guaranteed.
Regarding travel, the committee agreed to propose the Government maintain the implementation of measures to prevent infections from outside the country. Inside the country, each locality will carry out its specific restrictions based on its risk level, while the Health Ministry will also coordinate with the Transport Ministry to issue detailed regulations.
Along with increased communications to raise public awareness of disease prevention and control, the committee suggested the Prime Minister direct relevant agencies to strictly punish any violations.
Source: VNA
.