Da Nang gears up for possibly-prolonged fight against coronavirus
August 22, 2020, 11:46 [GMT+7]
The ongoing tough fight against Covid-19 is predicted to last for a long time. Amid the virus-sparked global economic decline, the country must strongly remain on its feet to fulfill the dual goal of minimising community transmission of Covid-19 in tandem with maintaining socio-economic activities at a necessary level for sake of its economic recovery.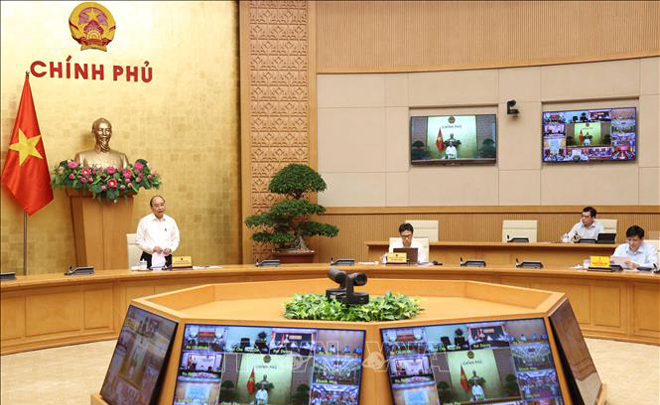 Prime Minister Nguyen Xuan Phuc delivering his specific instructions at the Friday online meeting on Covid-19 tackling
These statements were made by Prime Minister (PM) Nguyen Xuan Phuc at a regular online meeting on Friday on Covid-19 tackling. Da Nang Party Committee Deputy Secretary Nguyen Van Quang, municipal People's Committee People's Committee Chairman Huynh Duc Tho and representatives from local relevant agencies were among the participants in Da Nang.
PM Phuc ordered an urgent need to create a national-scale healthcare system in response to a scenario with an increasing number of critically-ill Covid-19 patients. He also highlighted the importance of scaling up Covid-19 testing programmes for those showing such light symptoms as coughing, fever and shortness of breath.
The national government chief underlined a must-do to boost pandemic containment efforts and drive the country's socio-economic development by making all-out efforts to curb the community transmission of the virus, without staying complacent and negligent.
"Covid-19 prevention is a long battle. Until there is a vaccine, we have to cohabit with the pandemic," the PM said.
In his remarks at the event, acting Minister of Health Nguyen Thanh Long said that, Da Nang has gradually brought the outbreak under control through arduous efforts. In reality, the spread of the virus has been slowed in city over recent days.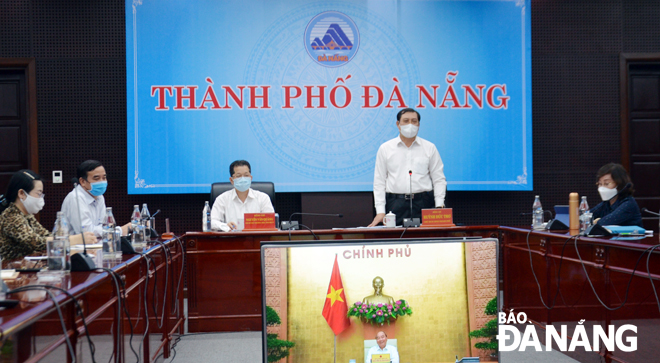 Municipal People's Committee People's Committee Chairman Huynh Duc Tho addressing the event
According to Municipal People's Committee Chairman Huynh Duc Tho, within the past week, infection numbers has recorded a downgrade trend, ranging from 2 to 6 cases positive for the virus. Encouragingly, most of the F1 contacts of new cases have been isolated in the city.
Till date, 17,000 people who had links with patients and their caretakers in the once-to-be-hotspot Da Nang General Hospital have been traced.
The municipal government chief also asked for more active support in term of healthcare workforce and equipment from the national government and other localities support Da Nang's efforts to eliminate coronavirus. Also, more financial aid from the national budget should continue going to those financially struggling across the city in the face of the coronavirsus-sparked economic difficulties.
Medical workers took swab samples from a combined total of 12,000 residents across Da Nang on 20 and 21 August, and somewhat encouragingly, only 13 of whom tested positive for the virus, the Centre of Disease Control (CDC) announced.
With regard to plans for the second period of the national senior high school examinations in virus-hit localities nationwide, the Da Nang leaders asked for permission from the national government to organise this very important educational event in the city between 9 and 11 September when the pandemic is highly likely to be basically controlled.
Da Nang Department of Education and Training Director Le Thi Bich Thuan said that a ceremony to welcome in the upcoming 2020 – 2020 academic year will held online on 5 September as scheduled by the Ministry of Education and Training. The e-teaching and learning methods will be compulsorily applied at all tertiary establishments and schools across Da Nang during the city's social distancing period.
Meanwhile, specific preparation plans for the new school year, in terms of teaching staff and teaching and leaning equipment are being rolled out in prompt fashion, in order to welcome school comebacks by local students and pupils when the pandemic is put under control.
By NGOC PHU – Translated by A.T
.