Da Nang steps up coronavirus test-track- trace efforts
August 20, 2020, 14:21 [GMT+7]
Da Nang has seen its coronavirus 'test, track and trace' strategy being rolled out in an effective manner, with a focus on stepping up the city's contact tracing efforts and scaling up its testing programmes in a bid to stop the spread of infection in the community and drive cases down to zero in the city.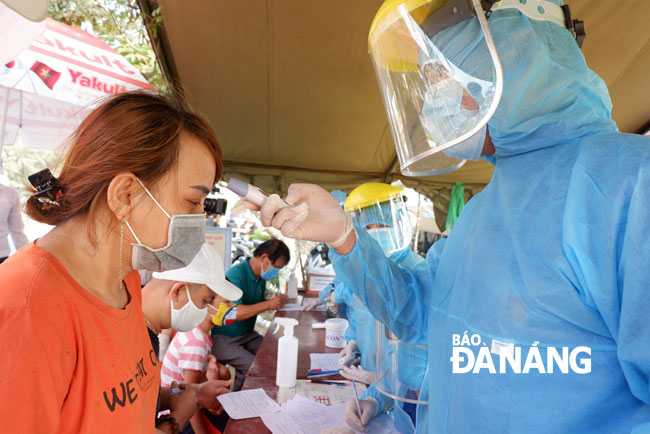 According to the Da Nang Steering Committee for Covid-19 Prevention and Control, it is necessary to step up the city's contact tracing efforts and scale up its testing programmestracing in a bid to prevent the spread of the virus
During a regular Wednesday meeting on responding to Covid-19 outbreak, Da Nang Party Committee Deputy Secretary Nguyen Van Quang underlined a must-do to continue enforcing strict virus prevention measures on local traditional markets which are at most risk of coronavirus resurgences.
In the wake of a new laboratory-confirmed Covid-19 case recently detected in the Hai Chau District-based Hoa Cuong Wholesale Market, Deputy Secretary Quang urged functional local bodies to minimise the market-goers numbers, continue taking swab samples from the staff of this market's management board, along with market stallholers and regular market-goers, and monitor the practice of the city's social distancing rules at this venue.
Da Nang People's Committee Chairman Huynh Duc Tho asked the taking of swab samples from all market stallholders at this wholesale market to be conducted at least twice
Local medical workers took swab samples from a combined total of 12,500 residents across the city on Wednesday, and somewhat encouragingly, only 2 of whom tested positive for the virus, the Centre of Disease Control (CDC) announced.
Reporting on the progress of Covid-19 patient treatment in the city, doctor Nguyen Tien Hong, the Deputy Director of the Da Nang Department of Health, said, 86 patients have been given the all-clear from coronavirus till date, following between three and five negative Covid-19 tests.
Meanwhile, some Covid-19 patients who are being treated at the Hoa Vang Field Hospital and the Lung Hospital are positively responding to the treatment regimens with good therapeutic effects, and showing their health improvements.
In fact, the Da Nang General Hospital is still at risk of coronavirus resurgence as few of new infections which are linked to this medical facility have been confirmed in recent times. Therefore, it is very necessary to continue speeding up the traceability of those having links with patients and their caretakers in this once-to-be-hotspot place.
Delivering his virus containment instructions, Da Nang People's Committee Vice Chairman Le Trung Chinh asked relevant agencies to resolutely handle any breach in the ongoing citywide social distancing rules, and prevent inaccurate information and negative comments from going viral on social networks about the city's infection prevention and control measures for Covid-19.
In the wake of Covid-19 outbreak, Da Nang is unable to see the upcoming 2020 – 2020 academic year start on 5 September as previously scheduled by the Ministry of Education and Training.
Nevertheless, specific preparation plans for the new school year, in terms of teaching staff and teaching and leaning equipment must be mapped out in prompt fashion, in order to welcome school comebacks by local students and pupils as long as the virus is put under control.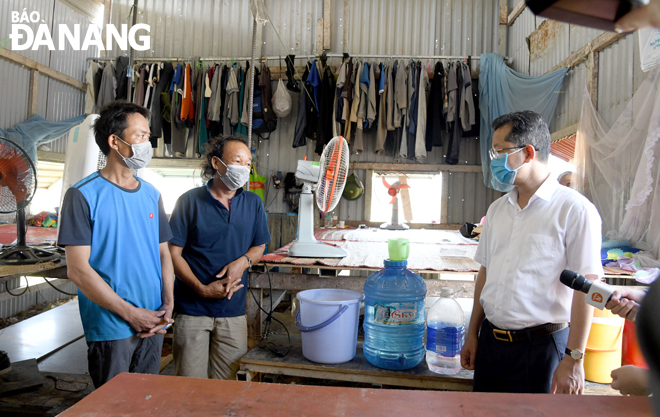 Da Nang Party Committee Deputy Secretary Nguyen Van Quang (right) visiting workers staying in the construction site of a project in Hoa Xuan Ward, Cam Le District
Deputy Secretary Nguyen Van Quang on Wednesday visited and extended his words of great encouragement to stranded immigrant workers living in rental accommodations in Hoa Tho Tay Ward and those staying at the construction site of the Don Bosco Vocational Training School in Hoa Xuan Ward, Cam Le District.
During his visits to these places, Deputy Secretary Quang gave his sincere sympathy to the stranded workers who are financially struggling in the face of the coronavirsus-sparked economic difficulties, hoping that they would get through these stressful times to be back on their feet again.
The Da Nang government has recently asked for permission from the Prime Minister on bringing a number of stranded construction workers who are from other localities nationwide back to their hometowns as per their wish because the shutdown of construction sites due to coronavirus outbreak.
Pending the official nod from the national government, the district authorities must work closely with other relevant agencies to give timely and essential support to the stranded workers who now live in either rental accommodations or at construction sites to be closed to respond to Covid-19.
In particular, heed should be paid to encouraging even more landlords to reduce rental fees for tenants in order to help them overcome the difficulties presented by the coronavirus crisis.
By NGOC PHU – Translated by A.T
.