Da Nang's store offer free food and essentials amid Covid-19 crisis
August 25, 2020, 10:55 [GMT+7]
Many stores in Da Nang are offering groceries in addition to "rice ATMs" for the needy amid the coronavirus pandemic.
A store has been set up at the Huynh Thuc Khang Junior High School in Thanh Khe District and it is distributing without charge food and essentials, including milk, eggs, instant noodles, rice, cooking oil, soy sauce, sugar, fish sauce, vegetables and fruits, to its needy customers. It is only open on weekends now.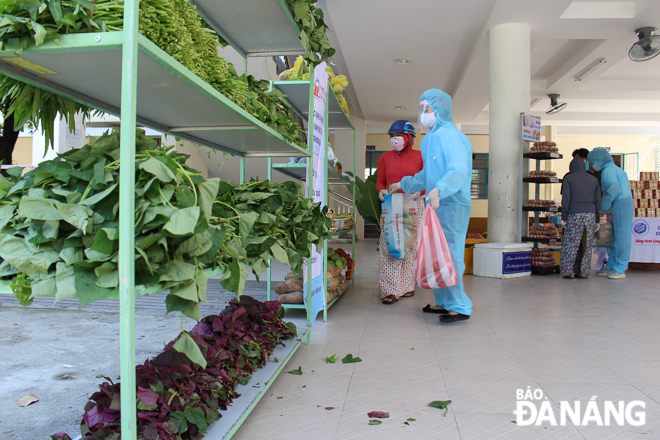 The store is operating in Thanh Khe District
Initiated by Ms Truong Thi Nhu Hoa from the municipal Department of Labour, War Invalids and Social Affairs, the store aims to ease economic hardships for low-income people in Da Nang, and feed those who are vulnerable and struggling with the economic fallout of Covid-19.
The operation of the store has received active support from generous philanthropists, plus volunteers from Social Work Groups, across the city.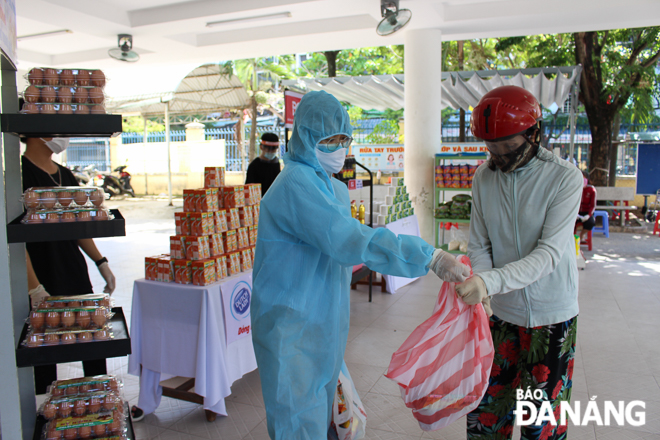 The store offering a wide range of food and essentials
An automatic hand sanitiser dispenser and an automatic body temperature monitoring device are installed at the entrance gate to the store. All shoppers are required to clean their hands and have their body temperature taken before entering the store.
Members of Social Work Groups has worked with the Thanh Khe District authorities to give vouchers valued at 350,000 VND each for 200 local lower-income familes as part of their support scheme for those in financial difficulty during the coronavirus outbreak.
These vouchers entitle them to visit the store on a specified day within a specified time period in order to avoid large gatherings to prevent the spread of the virus. The store allow each customer to pick up 350,000 VND worth of free groceries per visit.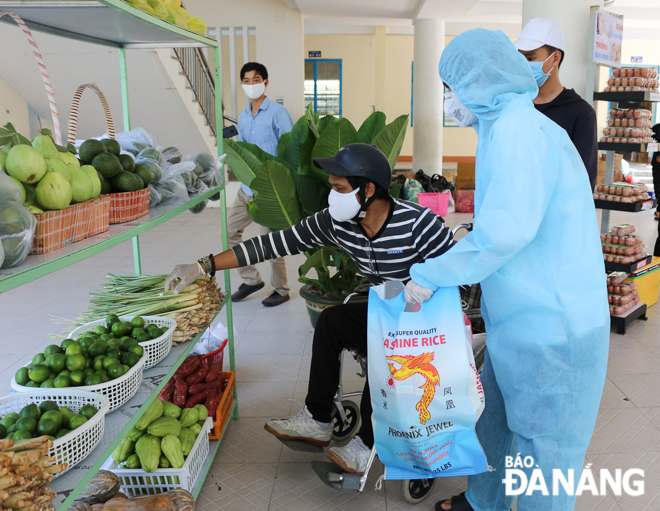 A store staff member helping a disabled man picking up groceries
Besides, free bottles of alcohol-based hand sanitizer and sterile saline are available at the store.
Notably, a 'face mask ATM' has been set up at the store to provide its shoppers with free face coverings.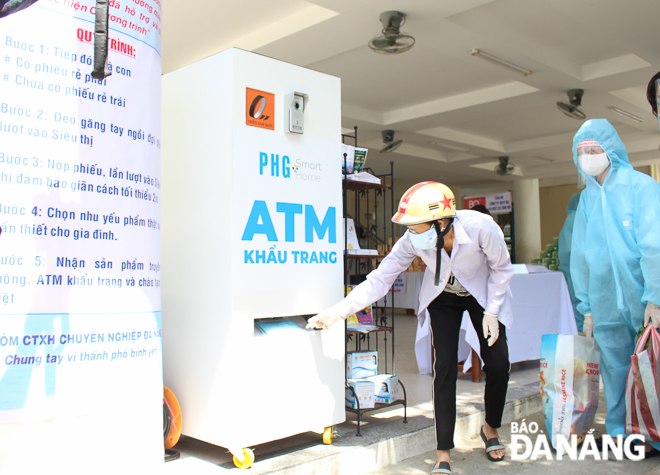 A woman receiving face masks from a 'face mask ATM' installed at the store
The machine is an initiative launched by Hoang Tuan Anh, a resident of Ho Chi Minh City who earlier introduced the widely-praised free 'rice ATM' for those affected by the pandemic in Viet Nam.
The automatic machine will distribute a parcel of 10 face coverings per person.
Ms Hoa said that she wants to play her full part in feeding the city and ensure nobody gets left behind. After a successful trial, the store will be rolled out citywide with the similar one to be set up in Hai Chau District in the coming time.
By XUAN SON - Translated by M.D
.