Da Nang government announces further easing of restrictions
September 11, 2020, 11:06 [GMT+7]
Given the positive fact that Da Nang has gone 14 straight days without recording a new local community transmission infection of Covid-19, the municipal government announced a further easing of the city's restrictions from 0am on 11 September, a move to pave the way for a gradual resumption of normal life. Nevertheless, appropriate measures must be taken to prevent the coronavirus from making an unexpected comeback to the city in the time ahead.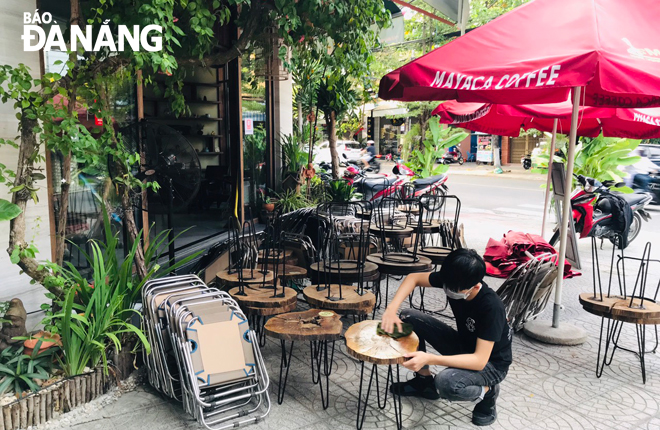 The Mayaca coffee shop at 113 Le Dinh Duong, Hai Chau District ready welcoming customers back

Further relaxations of the lockdown restrictions in Da Nang announced with effect from 0am on 11 September
Under the new eased social distancing rules, people across Da Nang are still recommended to continuing staying at home as much as possible, and only go out under absolutely necessary circumstances, taking measures to protect themselves and their families.
Also, they are advised to maintain a distance of at least 1 metre from anyone they do not live with when outside their home.
Ban on public gatherings of more than 30 people remains, except for in offices, schools and hospitals. Festivals, religious and sports tournaments and such events as wedding and housewarming parties with gathering of more than 30 people will remain banned until further notice.
The organisation of events serving very essentially political, economic and social purposes must be approved by the municipal authorities.
Meanwhile, places such as bars, beauty salon, discos, cinemas, gyms, karaoke and massage parlors, and discotheques, tourism and travel services, entertainment facilities, recreational activities in hotels and resorts, and casinos, plus and prize-winning electronic games for foreigners, remain closed.
Also, gymnastics, indoor and outdoor sports activities, yoga, billiards, swimming, and martial arts with direct interpersonal contact are temporarily prohibited.
Some other measures have been lifted: Food and drink shops are allowed offer their dine-in services. However, coronavirus prevention measures must be kept in place, with a focus on ensuring a safe distance between dining tables. Anyone who get involved in preparing foodstuff and drinks for their guests must wear masks and gloves. Appropriate measures are required to be put in place in order to make sure that these venues have the adaptations to ensure they're safe—sanitisers being available, social distancing measures being in place, there being proper signage.
Universities, junior colleges, junior and senior high schools, continuing education and vocational training establishments are permitted to reopen from 14 September.
Meanwhile, kindergartens, primary schools, foreign language and tutoring centres, plus related facilities will re-open from 21 September.
All local families still use tickets which allow them to go shopping at traditional markets only once very 3 days to avoid gatherings here.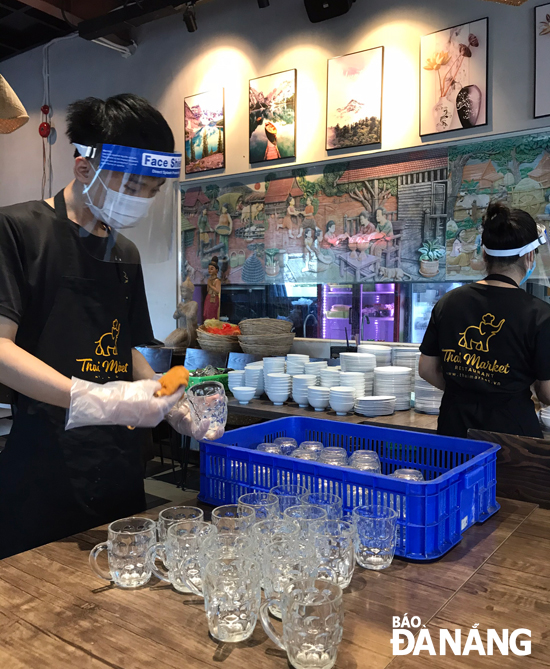 Preparatory work in progress at the Thai Market Restaurant at 43 Binh Minh 5 Street, Hai Chau District
Addressing a meeting on Thursday to adjust restrictions in the city in a bid to adapt to the changing situation around Covid-19, municipal People's Committee Vice Chairman Le Trung Chinh pointed out to the fact that there's no end in sight to the pandemic until an effective medicine or vaccine is obtained. Therefore, he stressed a must-do for locals to practise healthy lifestyle habits in a move to 'co-habit' safely with the virus and prevent them from potential exposure to deadly virus.
For the time being, the government and residents of Da Nang are gearing up their energy to reaslise a dual goal of both proactively combating the coronavirus and driving the city's economic recovery.
Apart from taking drastic actions to tackle coronavirus, the Da Nang government is developing effective solutions to help businesses recover from Covid-19, hereby stimulating the city's socio-economic development, ensuring residents can access social welfare support, and safeguarding security-defence.
Overseas arrivals will be quarantined after entering Da Nang
Under the national government-mandated rules, all Vietnamese nationals and foreigners entering Viet Nam are still compulsorily quarantined for 14 days to limit the spread of Covid-19.
In Da Nang, three local hotels have voluntarily signed up to serve as dedicated quarantine areas for those entering Da Nang from abroad with the quarantine fees charged. These hotels posses a combined total of 148 rooms serving 298 quarantined guests.
In addition, the municipal Department of Tourism plans to earmark 21 more hotels providing a total of 1,279 rooms for 2,346 quarantined guests in the coming time.
By PHAN CHUNG, MAI QUE- Translated by A.T
.