Da Nang residents donate life-saving gifts of blood in wake of coronavirus crisis
September 12, 2020, 11:06 [GMT+7]
After the Da Nang government announced a further easing of the city's restrictions from 0am on 11 September, many blood donor clubs across the city have geared up to encourage their members and local residents from all walks of life to donate blood to save lives.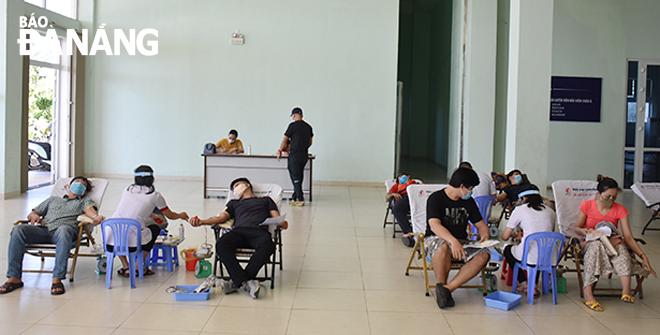 A scene from the the Friday blood donation drive
In reality, Da Nang's blood supply faces an unprecedented situation with a multitude of already-planned blood drives to encourage people to sign up as voluntary donors cancelled since a second wave of Covid-19 infections hit the city in late July due to restrictions imposed by the city authorities in a bid to tackle the spread of Covid-19.
As a result, many public hospitals across Da Nang have been facing a severe shortage of blood for emergencies and treatment. In particular, the Da Nang General Hospital's blood bank has been running dry. Hospital patients are relying on blood donors to keep them alive so blood donation is more urgent than ever.
To combat the blood shortage during the coronavirus crisis, the Da Nang Sports Athletes Training Centre, the Da Nang General Hospital and the city's Steering Committee for Voluntary Blood Donation co-hosted a blood donation drive on September 11.
Encouragingly, many people across Da Nang, particularly the young, selflessly responded to this call for blood donations. A total of 87 blood units were collected from donors participating this highly meaningful event.
Appropriate measures was taken during the blood donation drive to ensure the safety for medical staff and donors.
The most effective infection prevention rules applicable to the participants such as wearing face coverings and hand washing regularly with either soap with water or alcohol hand rub were mandatory. Also, a safe distance between medical staff and blood donors were ensured.
In particular, medical staff adhered to strict infection control precautions, including wearing medical gloves, wiping down much-touched surfaces with disinfectant and using single use sterile collection kits for every donation.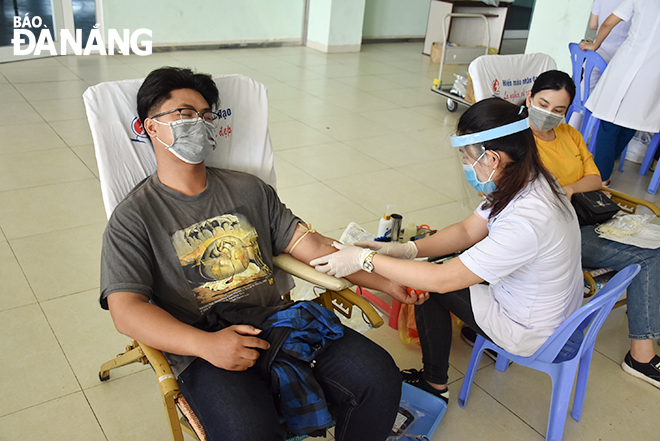 A young man is seen donating his blood at the Friday drive.
Male donor Pham Dinh Tuyen from Hoa An Ward, Cam Le District highlighted the significance of the campaign in replenishing the community blood supply for local public hospitals, as well as encouraging young people like him to strengthen community spirit and to show willingness to support the city's efforts to fight against coronavirus.
It was more praiseworthy as he vowed to keep giving his blood until he cannot. He would willing to put aside his personal errands to give blood to much-needed patients whenever he receives an urgent call from any hospitals in the city, regardless of the time of day.
Da Nang has the highest number of blood donors in the country, accounting for about 3.3% of its population.
The city now has 21 blood donor clubs with more than 585 members in total.
The city is aiming to ensure that, by the end of this year, 3.5% of the local population who fall within the blood donation age range will be donating, and 60% of existing donors will be willing to donate again.
By TRAN KHANG- Translated by A.T
.