Da Nang single mothers no longer alone
September 11, 2020, 09:50 [GMT+7]
Five years ago, a special group for single mothers was established in Hoa Phat Ward, Da Nang City's Cam Le District, to help them overcome difficulties in raising children and earning a living.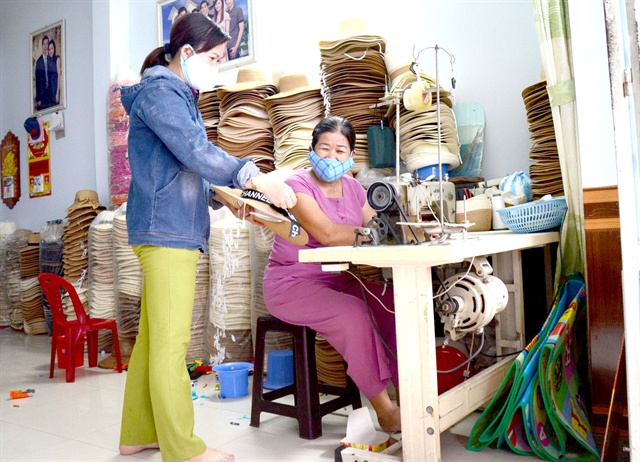 A single mother Cai Thi My Hiep (right) makes sedge hats. She set up a hat-making workshop, offering jobs for 17 other women in Hoa Phat Ward, Cam Le District, Da Nang City.
Head of the group, Cai Thi My Hiep, 63, inspires other local single mothers to thrive.
Hiep, a native of Hue City, moved to Da Nang to work 40 years ago and there, she got married to a co-worker.
They then gave birth to four children. Things would have been good for her family if Hiep had not lost her husband in 2000. He died when their fourth son was just five years old. Since then, Hiep has been struggling to raise the children alone.
Besides working at a factory, Hiep also did extra work like making alcohol for sale and raising pigs to improve her family's conditions.
"My relatives, friends and neighbours help me a lot so that I can raise my children, send them to school and now, all of them have good jobs," Hiep said.
"As my children can manage their lives by themselves now, I have time for myself which I want to spend to help other single mums like me," Hiep said.
When the group was first established, Hiep visited single mothers in the neighbourhood and encouraged them to join.
"We started with talks to get to know better about the circumstances of members and then, tried to find solutions to help them," Hiep said, adding that some were hesitant to join the group.
"They were not open to join us because of their poverty, their jobs, their pasts or just because they thought being a single mum was unusual," Hiep said.
"I told them about my family, about what I could do and what they could do too and I gained their trust," Hiep said, adding that the group members saved some money to contribute to the group fund.
The fund has also received donations from the community, Hiep said.
Thanks to the fund, group members can borrow money to start and expand their business. For the last five years, 45 women have got loans worth a total of more than VND202 million ($8,700)
The group also supports single mothers to attend job training classes, for example, growing flowers and decorative plants, growing mushrooms, making sedge hats or cooking.
Hiep also opened a workshop making sedge hats and wallets and launched a group of cooks specialising in catering for parties.
As many as 17 single mothers in Hiep's neighbourhood are employed by the workshop, earning VND3.5- 5 million ($150-215) monthly on average.
Vo Thi Xuan Xinh, 60 years old, used to be an unemployed single mother living in a makeshift house. She used to live isolated from her neighbours but since she joined Hiep's group, Xinh has become open to others.
The group also helped Xinh open a food stall to earn some money. The group also guaranteed her financial support of VND10 million ($430) from Women Union to repair her house.
Le Thi My Hanh, the chief secretariat of the office of Da Nang City's Women Union, said Hiep was very active and enthusiastic in supporting other women.
The group in Hoa Phat Ward now has 32 regular members and all of them have jobs with stable income.
Whenever they have problems, they share them with each other, to find solutions together.
Hiep said that she just did what she could to help others and was not paid for her work with single mothers.
In recent days, Hiep has also helped prepare meals for people in the Covid-19 quarantine area in Hoa Phat Ward.
"I'm happy to see single mothers' burdens reduced and see their children grow up and mature," Hiep said.
"We are single mothers but we are not alone," Hiep said.
Source: VNS
.