Da Nang urges other localities to facilitate entry of its citizens
September 11, 2020, 17:57 [GMT+7]
On behalf of the Da Nang leaders and locals, municipal People's Committee Vice Chairman Le Trung Chinh asked the national government to release specific instructions which are applicable to all other cities and provinces nationwide on admitting the entry of Da Nang's citizens.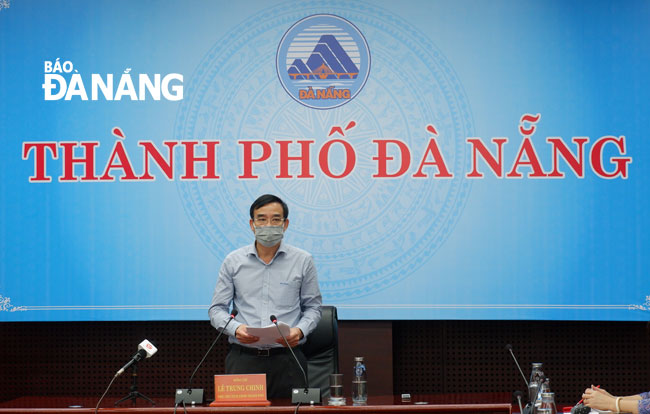 Da Nang People's Committee Vice Chairman Le Trung Chinh making his proposals at a virtual meeting on Friday morning
Vice Chairman Chinh's proposal was made on a virtual meeting on Friday morning chaired by Prime Minister Nguyen Xuan Phuc. The event aimed at assessing localities nationwide in the practice of the national government-recommended infection preventation and control measures for Covid -19 over recent times.
According to a report delivered by Vice Chairman Chinh at this webinar, since Da Nang braced for a second wave of Covid-19 infections in late July, 389 confirmed cases have been reported across the city, and the total recoveries have reached 310 till date.
Currently, only 33 remaining patients are being treated at the Da Nang Lung Hospital and the Hoa Vang Field Hospital.
In total, more than 317,000 people across Da Nang, making up for more than 30% of the city's population, have had their swab and blood serum samples taken for coronavirus testing.
Given the positive fact that Da Nang has gone 14 straight days without recording a new local community transmission infection of Covid-19, the municipal government has announced a further easing of the city's restrictions from 0am on 11 September, a move to pave the way for a gradual resumption of normal life.
Currently, Da Nang's citizens are only permitted to enter other cities and provinces nationwide as long as they test negative for coronavirus. Regarding this real issue, the Da Nang leader asked for permission from the Prime Minister to charge coronavirus testing fees on these persons.
Previously, the Da Nang government had urged other localities to create the most possible favourable conditions for travel demand from Da Nang's citizens, thereby helping the city reaslise its dual goal of eliminating coronavirus and driving the city's economic recovery after Covid-19.
By PHAN CHUNG – Translated by A.T
.