Storm Nangka forecast to dump more heavy rain on Da Nang this week
October 13, 2020, 11:22 [GMT+7]
Storm Nangka made its appearance in the East Sea a day after storm Linfa made landfall in Central Viet Nam on Sunday morning. The incoming storm Nangka would dump more heavy rain on the country, including Da Nang, in the coming days, Viet Nam's National Centre for Hydro-Meteorological Forecasting has warned.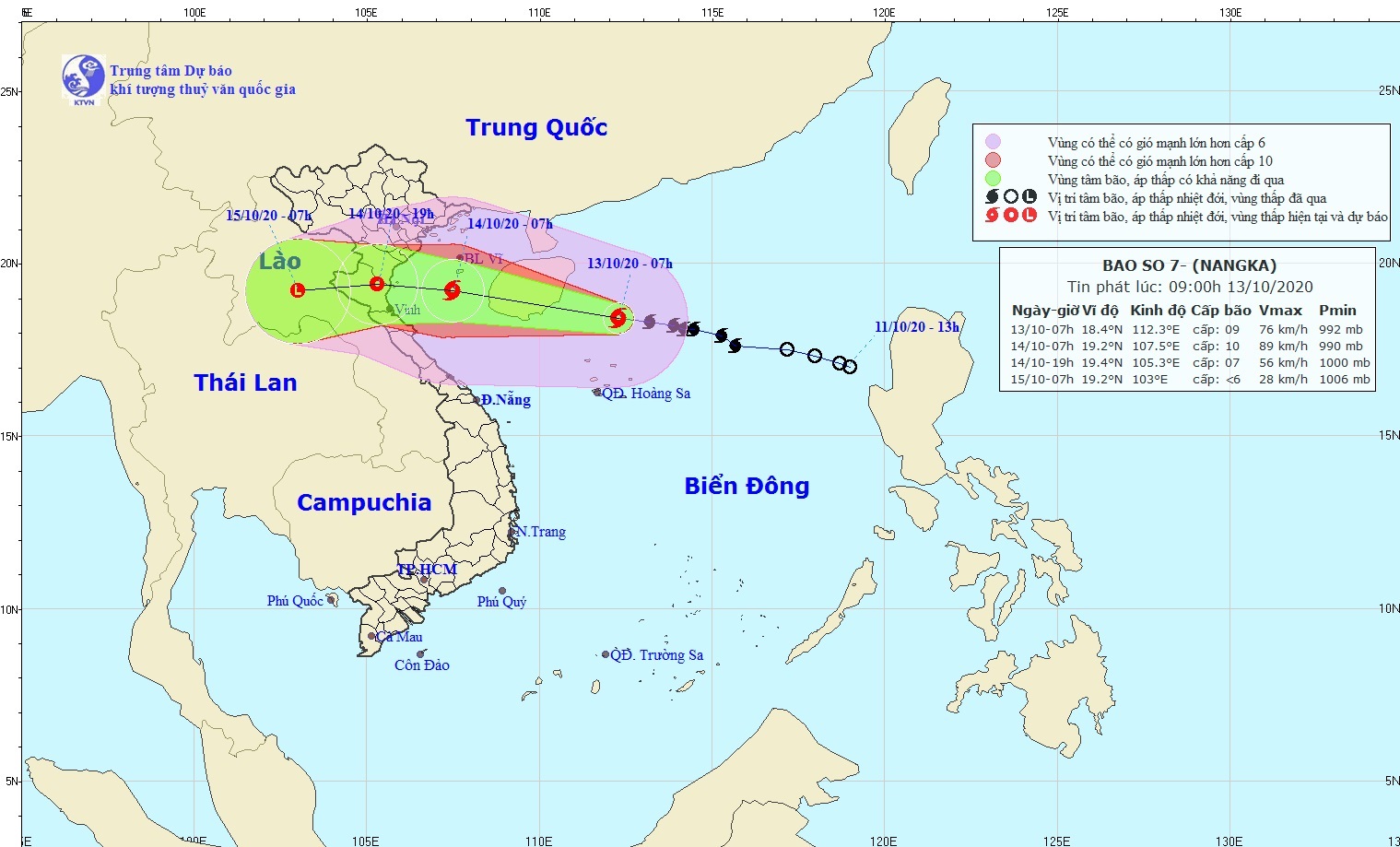 The expected track of the incoming storm Nangka (Source: The National Centre for Hydro-Meteorological Forecasting)
At 7.00 am today, 13 October, the center of Nangka was located at latitude 18°4'N and longitude 112°3'E, about 220km to east-southeast of China's Hainan Island, packing sustained wind speeds of level 9, with a gust of level 11 near its centre.
Nangka is moving toward the west-northwest with maximum sustained winds of 20 kph.
Storm Nangka, which is forecast to make landfall in Northern Viet Nam on Wednesday before weakening into a depression, will trigger heavy rain of up to 400 millimetres in parts of Northern and Central Viet Nam, including Da Nang, from Wednesday into Friday, the national weather agency said.
The water off the northern parts of the East Sea (including the Hoang Sa waters) are experiencing strong winds at level 10 with gusts of 12, sea waves from 3 to 5 m high, and very rough seas under the influence of Nangka.
As of Monday morning, the floods have inundated 2,950 homes, hundreds of hectares of crops and damaged several roads and bridges in Da Nang after heavy downpours swept across Da Nang over the past week, Da Nang authorities said.
The floods have also left at least 14 people missing in Viet Nam's central provinces, and most of the victims were washed away by the flood waters, Viet Nam's national disaster management authority said, adding that local authorities had evacuated nearly 46,000 people from the affected areas.
Da Nang authorities are concerned that the incoming storm Nangka will worsen the flood in the city.
All primary and secondary schools, along with universities and junior colleges across Da Nang, except for schools in Hoa Vang District, reopen today after 3-day closure due to heavy rain and devastating flooding.
By HOANG HIEP - Translated by M.D
.