Large fire at a cardboard packaging company in Hoa Cam IP
May 04, 2021, 09:48 [GMT+7]
At 3.20pm on May 2, a large fire gutted a manufacturing factory of the Hoa Binh Cardboard Box Company located at Street No. 3, Hoa Cam Industrial Park, Cam Le District, Da Nang.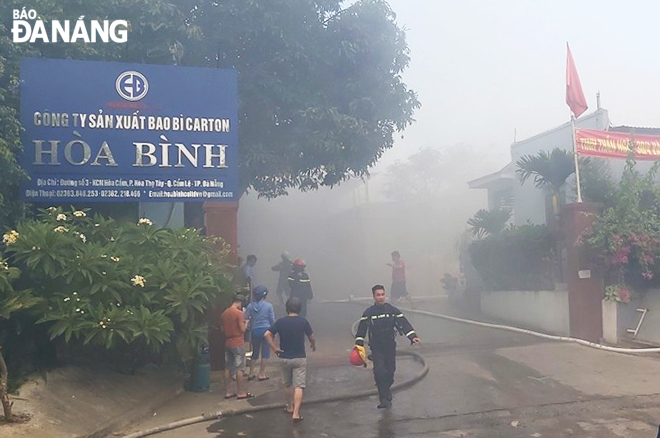 The fire quickly spread and a denser plume of hot air and smoke rises and spreads across the company. Photo: XUAN DUNG
The witnesses said that a large volume of thick black smoke was billowing from the cardboard box factory. They managed to stamp out the fire with small fire extinguishers but they were unsuccessful because there were many flammable materials such as paper, plastic in the factory. They then rang firefighters for help.
After receiving an SOS message from the witnesses, 11 fire engines, along with dozens of firefighters from the Da Nang Police Department of Fire Prevention and Fighting, rushed to the scene to douse the blaze.
Due to the 4-day break for the National Reunification Day (April 30) and Labour Day (May 1) holidays, workers were on leave. Hence, there were no casualties, said sources from the company. Security guards at the company detected the fire in a paper warehouse and asked for help from nearby residents to put out the fire but they were unsuccessful.
The fire was under control by around 5pm on the same day but there was still a large amount of smoke. Therefore, firefighters kept staying at the scene to spray water to prevent the fire from breaking out again.
The cause of the fire is under investigation and assessments of damage to the company is underway.
Reporting by THIEN DUYEN – Translating by H.L
.