Test results negative in 19 Da Nang close contacts of two COVID-19 infected Chinese men
May 03, 2021, 11:13 [GMT+7]
Nineteen Da Nang close contacts of two Chinese nationals who recently tested positive for COVID -19 after finishing 14 days of mandatory quarantine in Viet Nam have tested negative for the virus once, the Da Nang Centre for Disease Control (CCDC Da Nang) announced on Sunday.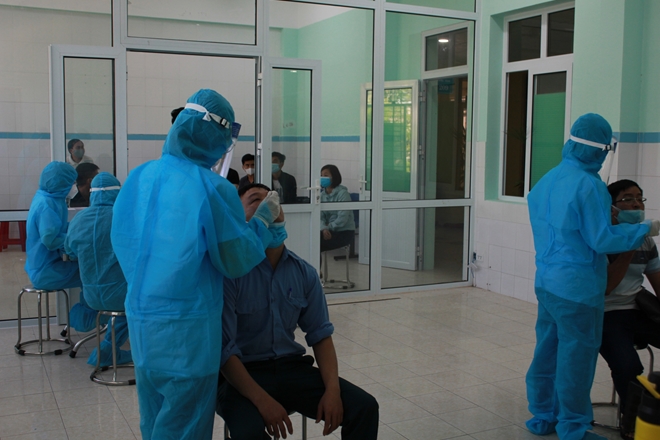 The taking of nasal and throat swab samples for COVID-19 testing is progress . Photo: candcom.vn
A group of five Chinese nationals were put under quarantine at a hotel in the northern province of Yen Bai from April 9 to 23 . During their 14-day mandatory quarantine period, this hotel received an team of Indian experts for quarantine from April 17.
After their quarantine period ended on April 27, the five Chinese people arrived in Da Nang by air and they visited some places during their stay in the city. On April 29, the two Chinese infected man flew to Ha Noi for comeback to their hometowns in China.
On the morning of May 1, the two Chinese infected men let their close contacts in Da Nang know about their positive COVID-19 test results which had been taken in China.
In a prompt fashion, CDC Da Nang reported this highly concerning matter to the Preventive Medicine Department under the Vietnamese Ministry of Health for the updates relating to the two Chinese confirmed cases.
Also in the evening of May 1, CDC Da Nang traced immediately local people who have been in contact with the two COVID-19 infected Chinese men, and took nasal and throat swab samples for COVID-19 testing, and all of the 19 F1 cases tested negative for the virus.
For the time being, the list of F1 and F2 is being tracked down.
As per request of Ministry of Health, those traveling on flight VN7161 that departed Ha Noi at 2:20 p.m. to arrive in Da Nang at 3:46 p.m. on April 27, and flight VN160 departing Da Nang at 10:46 a.m and landing in Ha Noi at 12:10 p.m on April 29 need to contact their local nearest medical facilities for assistance as soon as possible.
Reporting by PHAN CHING-Translating by A.T
.