51 year-old COVID patient makes recovery after 34 days on ECMO support
October 10, 2021, 21:23 [GMT+7]
A 51 year-old woman ended her over 75-day hospital stay on Sunday, October 10 after being put on a life-support machine, the Da Nang Lung Hospital has announced.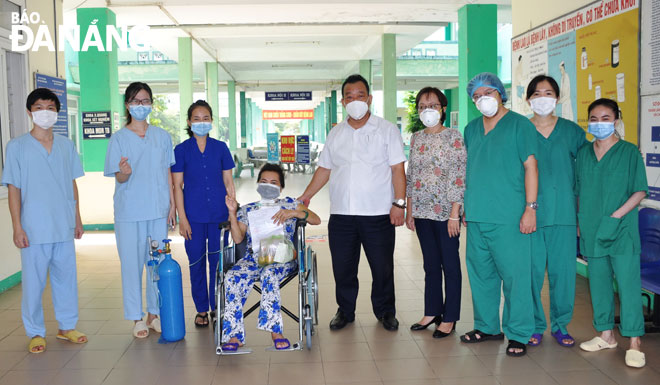 The 51 year-old woman

in a wheelchair

has made full recovery from respiratory failure following over 75-day hospital stay. Photo: L.T
She was discharged from the Da Nang Lung Hospital on Sunday morning after making a full recovery from COVID-19.
That began a fight for her life that included 34 days on an ECMO machine and a total of over 75 days in the hospital. The disease caused a life-threatening pneumonia.
The woman who is residing in An Hai Bac Ward, Son Tra District, was admitted to the field hospital in the west of the city on July 26 after testing positive for coronavirus. During her stay in the field hospital, she presented with fever ranging from 38-40˚C, and developed worsening hypoxemic respiratory failure which is a life-threatening complication of coronavirus disease 2019 (COVID-19)-related acute respiratory distress syndrome. Her condition steadily worsened. Her doctors feared that she may not survive, she therefore was moved to the Da Nang Lung Hospital on July 30.
She has been put on an ECMO machine for 34 days at the Da Nang Lung Hospital to keep her alive.
The treatment, known as extracorporeal membrane oxygenation or ECMO, is a form of life support that essentially takes the place of the heart and lungs. It essentially gives a patient's organs and the rest of their body a break when they suffer respiratory distress.
She was removed from the machine on September 16.
"The patient also didn't only undergo ECMO. Doctors put her through multiple other prolonged treatments. She is the most critically-ill patient in Da Nang to recover from COVID-19", Doctor Le Thanh Phuc, the Director of Da Nang Lung Hospital said.
On Sunday, she had enough strength to return home.
Doctor Phuc said that doctors and nurses of the hospital have given their best in the successful treatment of the city's most critically-ill patient in addition to their attempts to coordinate care with professionals from the Da Nang General Hospital.
Reporting by PHAN CHUNG – translating by H.L
.